Whether you're feeling a soft glam look or a full beat, transform your makeup routine with these 20 best makeup hacks! From skincare to lipstick, these tips and tricks will help you achieve a flawless look in no time.
The best makeup hacks of 2023
For a smooth base

Don't test foundation on your wrists
Besides a good skincare routine, your foundation is the second most important aspect of your makeup look.
You want your foundation to flawlessly match your skin tone. When choosing a foundation, don't make the mistake of testing it on your wrist! Your wrist is often a different shade and texture from your face. For the most accurate match, swatch the foundation on your jawline or neck.
2. Avoid creases by using loose powder to blend your concealer
Any concealer can crease when not set properly, so don't spend the big bucks on finding "the perfect concealer" – just refine your setting technique.
After applying your concealer, simply take a fluffy brush and dip it into some loose powder. Gently tap off any excess powder, then sweep it back and forth over your concealer with a light hand. This will help set the concealer in place and prevent it from creasing throughout the day.
3. Exfoliate to avoid a patchy look
Getting ready for a big day? Exfoliating your skin can ensure that your makeup will not cling to patches of dry skin or accentuate the texture. A chemical exfoliant with BHA or a gentle scrub can do the trick! You can skip this step if you're regularly using retinol to avoid over exfoliating your skin.
4. Mix your blush and highlighter for a rosy glow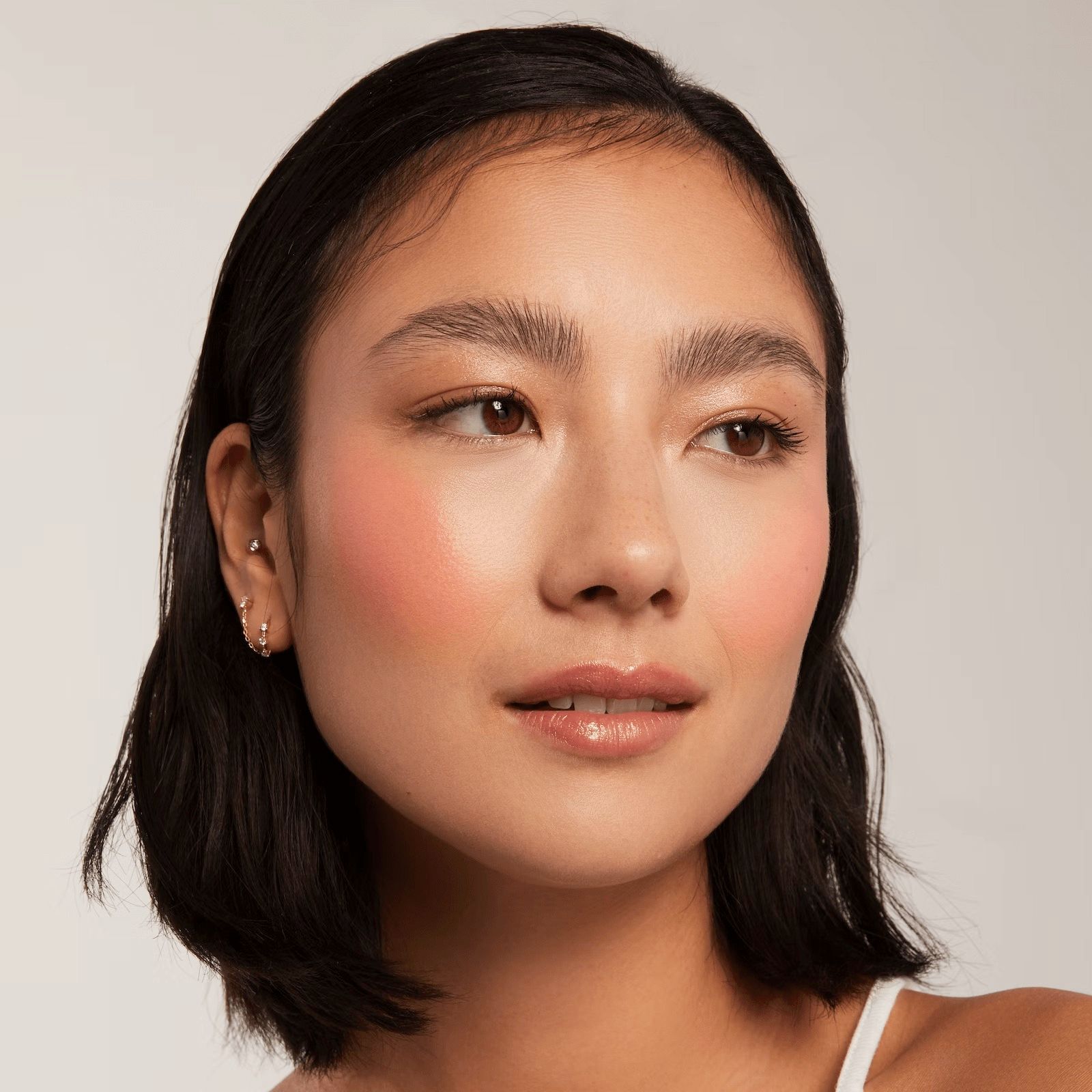 If you prefer looking effortless over a blinding beat, this hack is for you. Glow from within by mixing your blush and highlighter before applying to your skin. This hack is best achieved with a cream highlighter and blush.
The Soft Seamless Cream Blush Stick from Italic can help you achieve this healthy flush. This satiny cream blush stick applies like a dream, with a buildable veil of color for customized coverage. The skincare-infused blush formulated in Japan is packed with hyaluronic acid and sunflower seed oil to lock in hydration and prevent caking, while camellia leaf extract helps calm and balance the skin
5. Use hydrocolloid patches to cover blemishes seamlessly
Don't let a breakout get you down! Stamp a hydrocolloid patch over a pimple and proceed with your foundation as planned. The hydrocolloid patch absorbs any gunk from your pimple while protecting it from bacteria and even more irritation. Plus, it leaves a smooth base for your foundation to simply glide over.
6. Clean your makeup brushes with olive oil and dish soap
You don't want to work on a flawless look only to break out afterwards because you used dirty brushes. Let's be real - maintaining clean brushes can be tedious. Make sure you always have clean makeup brushes by using olive oil and dish soap. Olive oil helps break down makeup easier and when paired with dish soap, you can spend less time cleaning and more time testing your favorite looks.
7. DIY your tinted moisturizer
DIY-ing your tinted moisturizer is an easy way to create a custom foundation that perfectly matches your skin tone. Simply mix a dollop of your favorite moisturizer with a few drops of your liquid foundation in the palm of your hand, and apply it to your face as you would a regular moisturizer. This hack is perfect for when you want a natural, dewy look that won't feel heavy on your skin. Plus, it's a great way to stretch out the life of your favorite foundation and get more use out of it!
For striking eyes
8. Use loose powder to achieve longer lashes
Powdering your lashes might sound strange, but it can add volume and length to your lashes. Pick up powder using a small brush or a q-tip and lightly dust over your eyelashes before applying your mascara. The powder helps to thicken each lash and create a base for the mascara to adhere to, resulting in a fuller, more dramatic look.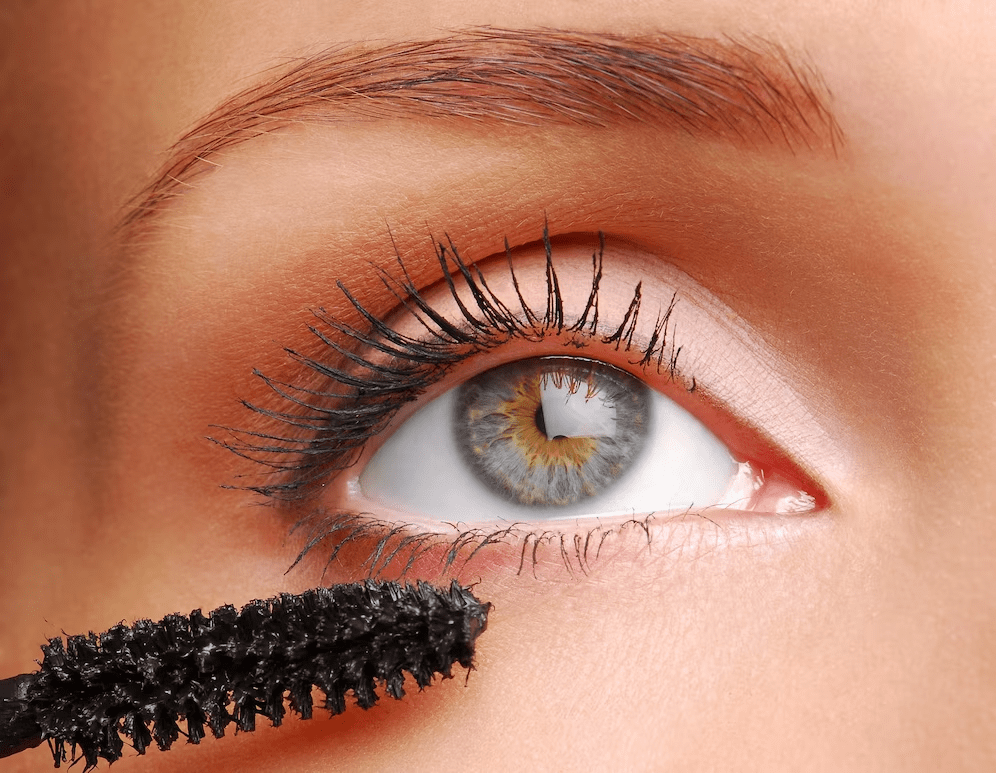 9. Learn how to apply eyeliner to compliment your eye shape
Applying eyeliner is a great way to enhance your eyes and add definition to your overall look. However, different eye shapes require different techniques for a flattering result. For example, those with almond-shaped eyes can create a winged effect, while those with hooded eyes may need to focus on the outer corner. Learn what works best for your eye shape and check out this chart to help you out.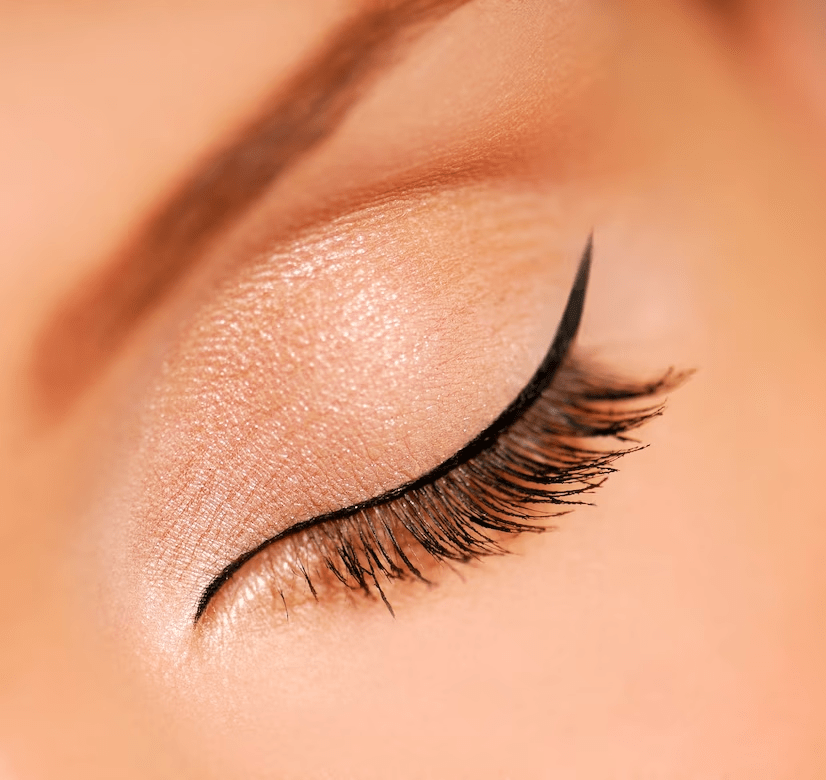 10. Refresh your clumpy mascara
A quick and easy way to refresh clumpy mascara is to add a few drops of saline solution or eye drops into the tube. This helps thin out the formula and makes it easier to apply. Simply add the drops to the tube, close it tightly, and shake it gently to mix the solution. Your mascara will be as good as new and ready to use for a flawless application. Just be sure not to overdo it with the drops, as too much liquid can ruin the mascara's formula.
11. Use eyeshadow as eyeliner
Feeling a little playful? Test out more colorful looks without buying new products . All you need is a thin angled brush and your favorite eyeshadow shade – to make it look more vibrant, you can dip it in a little bit of water. Using eyeshadow as eyeliner also results in a softer but more defined eye look.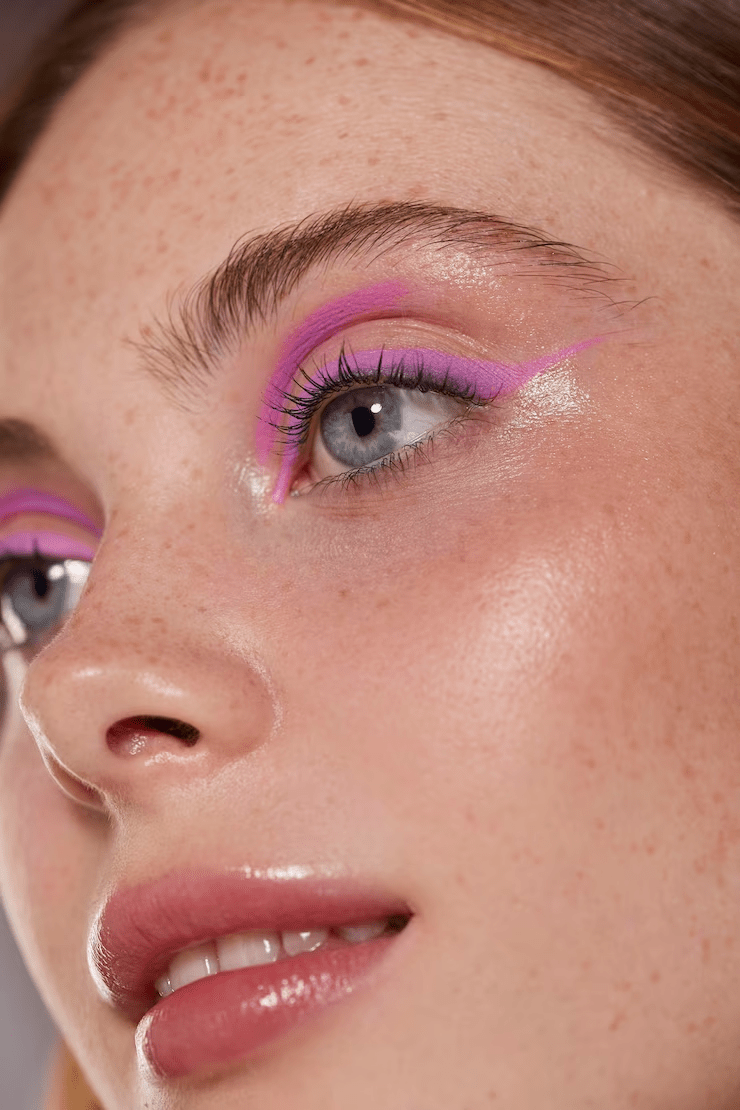 12. Don't line your entire eye with dark liner
One of the best makeup hacks is to avoid lining your entire eye with dark liner. Instead, use a lighter color on the inner corners of your eyes and gradually get darker as you move outward. This creates a subtle, yet defined, look that can make your eyes appear bigger and brighter. Overdoing the dark liner can make your eyes look smaller and closed off. With this simple tip, you can achieve a natural and effortless look that's perfect for everyday wear.
13. Apply nude or white liner to your waterline to widen your eyes
One makeup hack to achieve brighter and more awake-looking eyes is to apply nude or white eyeliner to your waterline. This simple trick can instantly make your eyes appear larger and more youthful, as it helps to create the illusion of wider eyes.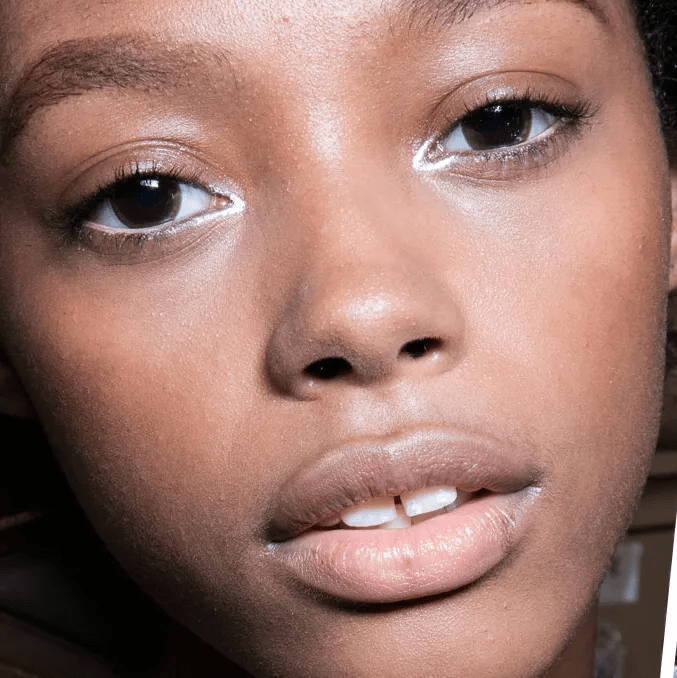 Photo from The Cut
When applying the liner, start from the inner corner of your eye and work your way out, taking care to blend any harsh lines for a natural-looking effect. This technique works particularly well for those with smaller or more close-set eyes, but can also be a great way to make any eye shape look more awake and refreshed.
Keep it on fleek
14. Brush your brows into place
Brushing your brows is an easy yet effective way to achieve a polished look. Using a spoolie brush or a clean mascara wand, gently brush your brows upwards and outwards, following the natural shape of your brows. This helps to tame any unruly hairs and create a neat, defined look. You can also use a clear brow gel to keep your brows in place throughout the day. Remember, well-groomed brows can make a big difference in framing your face and enhancing your look.
15. Use white eyeliner to accentuate your brows
Using white eyeliner to highlight your brow bone can make your brows appear lifted and more defined. After filling in your brows, apply a white eyeliner pencil just below the arch and blend it out with a small brush or your finger. This creates a subtle highlight that will make your brows pop and give them a more polished look. It's an easy and effective way to add some extra definition to your eye makeup.
For a perfect pout
16. Cheat a fuller lip
Who needs fillers when you can cheat a fuller lip? You can achieve the perfect pout by highlighting your cupid's bow and lining your lips.
Lip liner can be your best friend when it comes to creating the illusion of fuller lips. Start by outlining your lips just outside your natural lip line and then fill in the center with your favorite lip color. Be sure to blend the liner and lipstick for a seamless finish.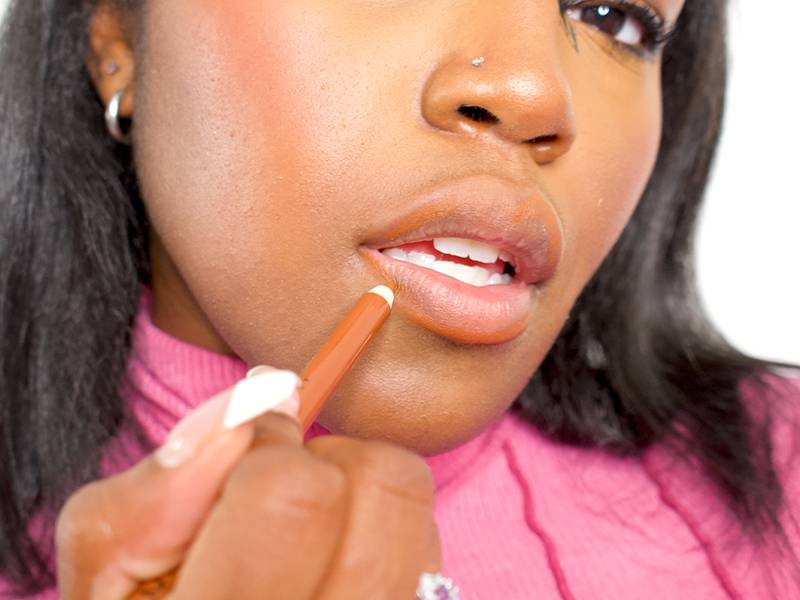 Photo from makeup.com
Using a lip liner that matches your lipstick can help create a fuller, more defined pout. And for an extra plump effect, add a touch of highlighter to your cupid's bow and the center of your bottom lip.
17. Make your lip stain
Find yourself with a perfect eye look without the lips to match? Simply mix a small amount of your favorite powder blush or eyeshadow with a clear lip balm or petroleum jelly until you achieve the desired shade. Apply the mixture to your lips with a lip brush, and you're ready to go!
18. Use your thumb to keep lipstick off of your teeth
Having lipstick on your teeth – especially a bold shade – can be a real fail! After applying lipstick, put your thumb in your mouth and close your lips around it. Then, pull your thumb out slowly to remove any excess lipstick that might have gotten on your teeth. The lipstick will transfer to your thumb instead of your teeth, leaving you with a perfect bold lip.
19. Set lipstick with translucent powder
Setting your lipstick with translucent powder is a great makeup hack to make your lip color last longer. Simply apply your lipstick as you normally would, then take a tissue and blot your lips to remove any excess product. Make sure to use a light hand with the powder, and apply another layer of lipstick for added security.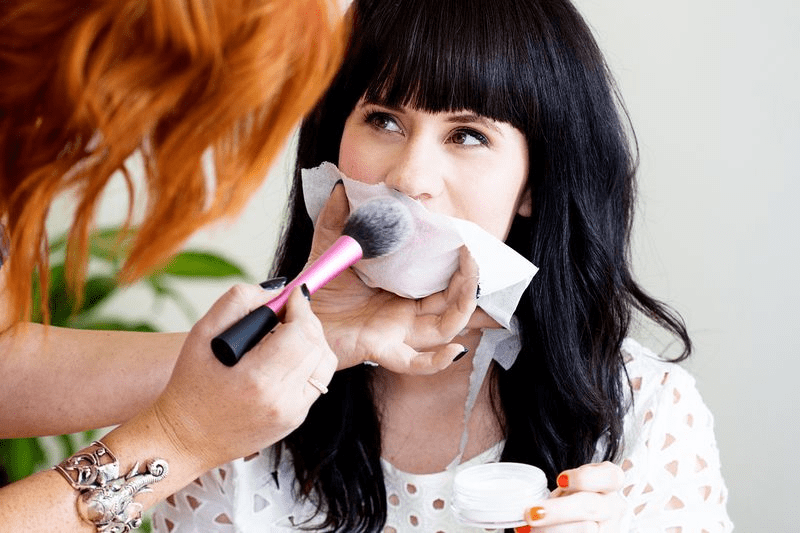 Photo from A Beautiful Mess
Ready, Set, Go!
20. Double lock it
Now that you've finished your look, the next goal is to make it last the whole day. First, use a powder puff to gently press translucent powder into the skin. Add only a light layer to avoid looking cakey. Afterwards, apply your setting spray generously.
---
A note from Italic
Trends leave as fast as they come, but proper technique ensures a flawless look forever. With these game-changing makeup hacks, you can achieve a smooth base, striking eyes, on-fleek brows, and a perfect pout without breaking the bank. Transform your makeup routine and achieve your most divine look yet!