Here's everything you need to know about freshwater pearls, from how they're grown to how they're graded.
1 / Size
Freshwater pearls come in a wide range of sizes, from 3mm to 16mm. In recent years, new cultivation techniques have made very large freshwater pearls possible.
2/ Color
These pearls are prized for their range of colors, including white, pink, lavender, and peach. Freshwater pearl hues tend to have warm, golden undertones as opposed to the bright, cool whites in saltwater pearls.
3/ Shape
Freshwater pearls are very rarely perfectly round. Exceptionally round pearls like the ones we use in most Italic jewelry require expert cultivation and are the most valuable. Jewelry designers often use more common rice, potato, and asymmetrical baroque shapes in unique contemporary jewelry pieces.
4/ Luster
Instead of the ball bearing-like shine seen in saltwater pearls, freshwater pearls tend to have a lit-from-within, satiny luster.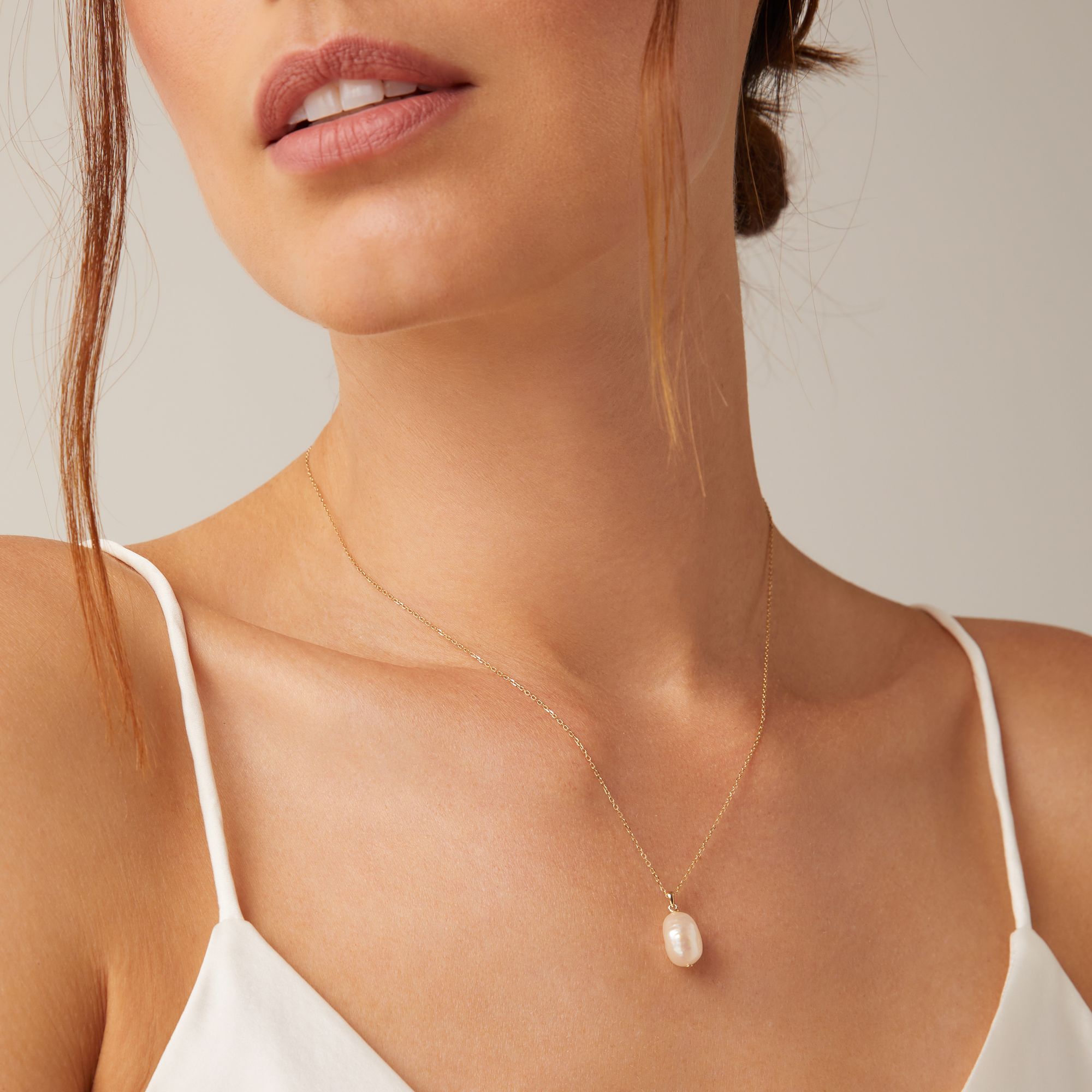 ---
Where Do They Come From?
The vast majority of freshwater pearls on the market today come from pearl farms in Central and Eastern China, where Hyriopsis cumingii and Hyriopsis schlegeli freshwater pearl mussels thrive. Pearl farmers in these regions have been cultivating pearls for centuries, perfecting and innovating the techniques that allow for the high-quality and diverse freshwater pearls available today.

Pearls are also grown in freshwater lakes and rivers in Japan, the United States, and Europe, but these make up a very small percentage of freshwater pearls on the market.
---
How Are They Grown?
Most freshwater pearls are cultivated using a process called bead nucleation. Pearl farmers insert several small round beads made of freshwater mussel shells into the flesh of a mollusk along with pieces of mantle tissue. This irritates the mollusk, causing it to secrete nacre around the bead until it's completely covered, forming the calcium-carbonate compound that we know as a pearl.

Over the course of 2 to 7 years, mussels deposit layer upon layer of nacre around the growing gems, producing exceptionally durable pearls. Each mollusk produces more than two dozen pearl clusters per harvest and can produce several harvests over a 30-year lifespan, making freshwater pearl farming much more efficient than saltwater pearl farming.
---
How Are Freshwater Pearls Graded?
Jewelers grade freshwater pearls on a scale from A to AAA, with AAA being the highest. We use AA or AA+ gems in Italic jewelry, indicating exceptional quality.
Freshwater Pearl Value Factors
Luster: This refers to the pearl's ability to reflect light. Pearls with high luster have a bright, shiny surface.
Surface Quality: This indicates the number of blemishes or impurities on a pearl's surface.
Shape: As mentioned before, freshwater pearls come in a wide range of shapes, from round to baroque. Round pearls are the most valuable, followed by semi-round, oval, button, drop, pear, and baroque.
Size: Freshwater pearls typically range in size from 3mm to 16mm, with 6mm to 7.5mm pearls being the most common. Pearls larger than the average range are considerably more valuable.
Color: As with shape, freshwater pearls come in a wide range of colors. The most valuable freshwater pearl colors are white, pink, and lavender.
Nacre Thickness: Nacre is the smooth compound that gives a pearl its beauty. Nacre thickness is usually expressed in microns (µm), with freshwater pearls typically ranging from 0.55 to 0.80 µm. The thicker and smoother the nacre, the more valuable the pearl.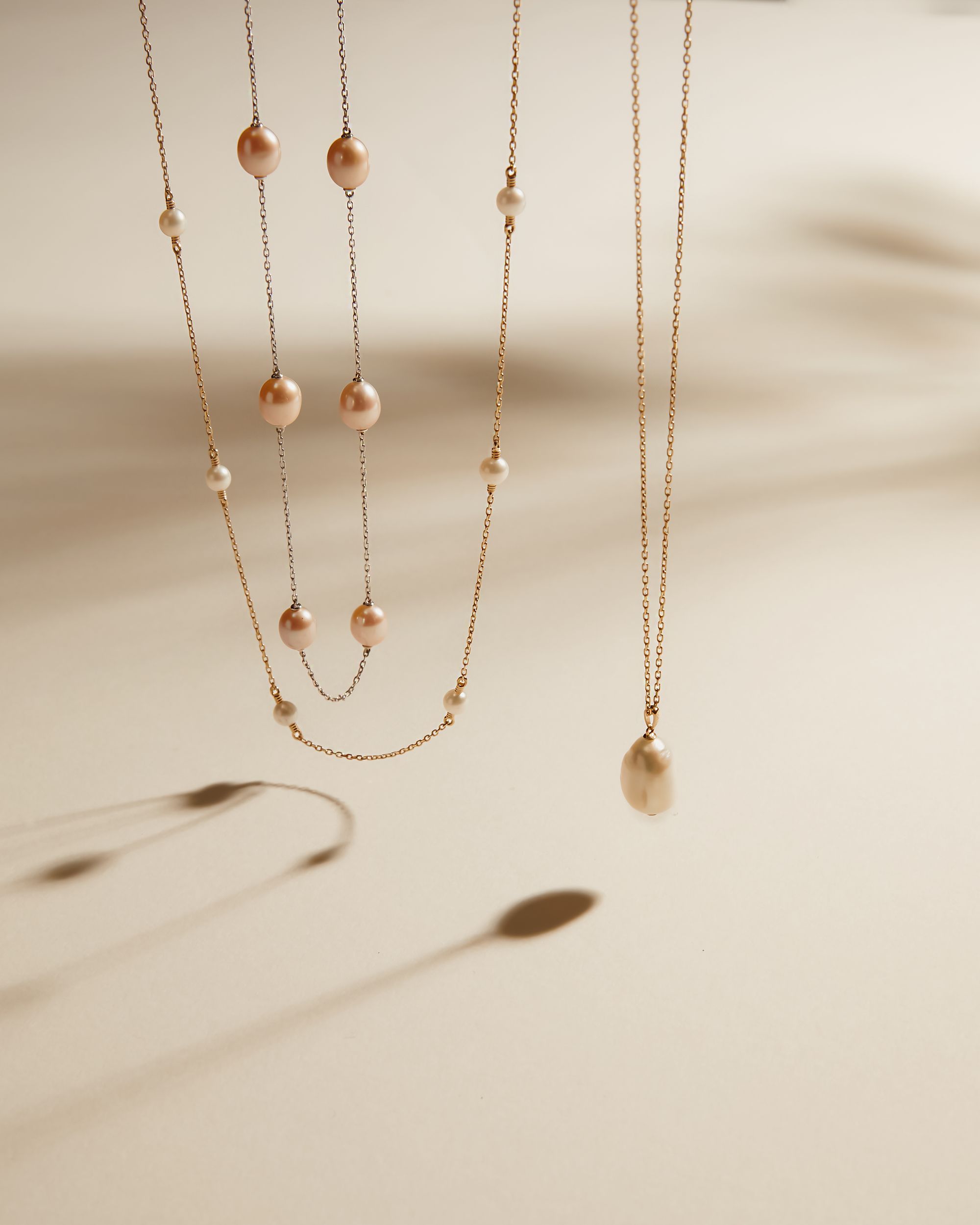 ---
Freshwater Pearls Vs. Saltwater Pearls.
While freshwater and saltwater pearls have many similarities, including how they are graded and valued, there are some key differences between the two.

Pricepoint
Freshwater pearls are more affordable than their saltwater counterparts. This is due in part to the fact that freshwater mussels can produce several harvests over the course of their lifetimes, while saltwater oysters only produce one. The mollusks used in freshwater pearl cultivation also tend to have a much higher yield.

Appearance
In terms of appearance, freshwater pearls tend to be less round than saltwater pearls and come in a wider range of shapes, including quirky baroque pearls. Freshwater pearl hues also tend to have warm, golden undertones as opposed to the bright, cool whites in saltwater pearls. Finally, freshwater pearls typically have a satiny luster as opposed to the high shine of saltwater pearls.

Preference
When it comes to freshwater vs. saltwater pearls, it really comes down to a matter of preference. Both types of pearls are beautiful in their own way and make stunning pieces of jewelry. If you're looking for something a little more unique, freshwater pearls may be the way to go. If you're wanting a classic look, then saltwater pearls offer loads of elegance.
---
Caring For Freshwater Pearls.
Caring for these durable pearls is simple. Just avoid exposing them to harsh chemicals, like chlorine, perfume, and detergent. When you're not wearing them, store your freshwater pearl jewelry in a cool, dry place out of direct sunlight. And be sure to put your pearls on after you've applied makeup and hairspray.
---
Italic's Freshwater Jewelry Styles.
Every piece of jewelry we sell meets our — and your — high standards. We live in it, extensively testing each design for durability and endurance. If we don't love it, we won't sell it.
Our freshwater pearl pieces combine classic elegance and contemporary design. From timeless studs to station necklaces, our modern pearls are a must-have for first-time pearl buyers or longtime pearl lovers.