With seemingly endless options to choose from, just the thought of picking the right bedding may make you hide under the covers.
---
Choosing the right material
Cotton is the most common fiber for sheets because it's naturally soft and durable. It absorbs heat, leaving you dry and comfortable throughout the night. Synthetic materials are much less breathable and tend to trap heat.
Cotton sheets come in a variety of weaves and knits, but the most common options are Percale, Sateen, and Jersey.
Percale uses one thread horizontal and one thread vertical weave, threads are alternating evenly. This produces a matte finish and a crisp, cool, white-button-down-shirt kind of feel that improves with every wash. Similar to a button-down, this material can wrinkle easily and be a bit "crinkly". One tip is to take percale sheets out of the dryer immediately and lay them out on a flat surface while they're still warm. Percale has superior durability and won't pill over time. It's lightweight and breathable, making it perfect for warmer months or warm sleepers.‌‌
Sateen uses one thread up and three or four thread under weave. This weave gives sateen its distinctive subtle sheen and silky touch. Due to their high thread count and luxurious feel, sateen sheets tend to be more expensive than percale or jersey.‌‌ Unlike the lightweight crisp percale, sateen has a heavier weight. While breathable and perfect for year-round use, these sheets may be too warm for hot sleepers.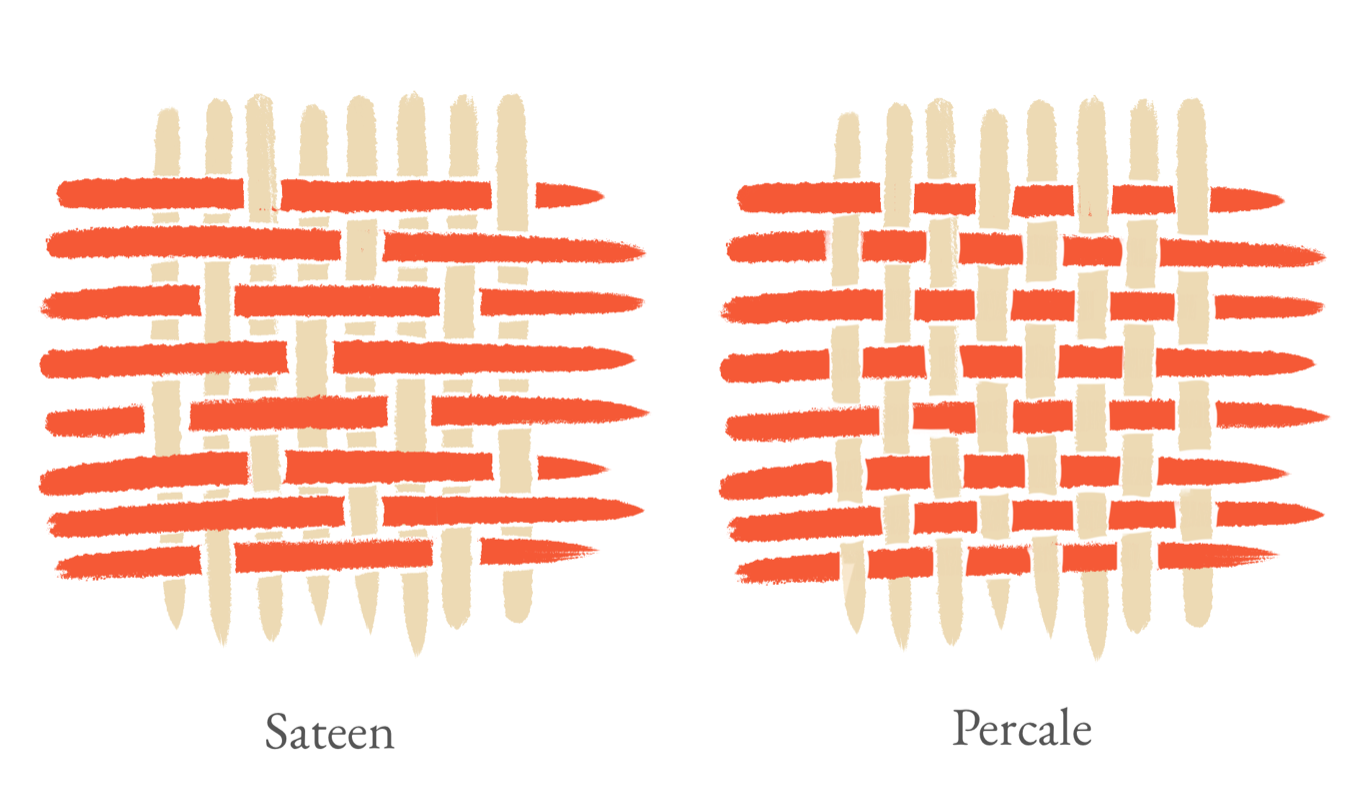 What is a "one-over-one under" weave mean? This refers to the looming process. Threads lengthwise on a loom are called "wrap" and "weft" refers to the threads woven into the warp threads. A one-over-one under (in the case of percale) means the weft passes over one warp and then under the next warp. In the case of sateen, the weft thread is woven over three or four threads before passing under one.
Jersey is a knitted fabric that produces a slightly fluffy finish on one side and a smooth finish on the other side. If percale is like a crisp button-down, jersey is like your favorite tee shirt (requiring just as little maintenance). Loved for its softness, jersey is incredibly cozy, stretchy, and completely wrinkle resistant. When made of 100% cotton (like the Cloud Cotton Jersey from Italic), jersey sheets are highly breathable.
Italic cotton bedding products are made from 100% Long Staple Cotton and Oeko-Tex®️ certified. Available as a full program of sheet sets, duvet covers, and pillowcases.

---
Linen is a flax-based, natural fiber textile. Linen is twice as durable as cotton and naturally antimicrobial. With its signature weave, linen is also naturally temperature-regulating and moisture-wicking. It's known to be cool and breathable and ideal for hotter temperatures. While often associated with use during the hotter months, linen is also a natural insulator that can keep you cozy during cooler temperatures. Best of all, linen is incredibly soft and only gets better with each and every wash.
Linen is also considered a very eco-conscious choice because:
Linen crops require 75% less water than cotton crops
Linen dries twice as quickly as cotton
Every year, the growth of flax in Europe results in the capture of 250,000 tons of CO2
Italic's Pure Linen Sheet Set and Pure Linen Duvet Set come with pre-washed 100% European flax linen. They are temperature-regulating, all-season sheets which means they are cool during the summer months and warm during the winter months. Hypoallergenic and no ironing needed.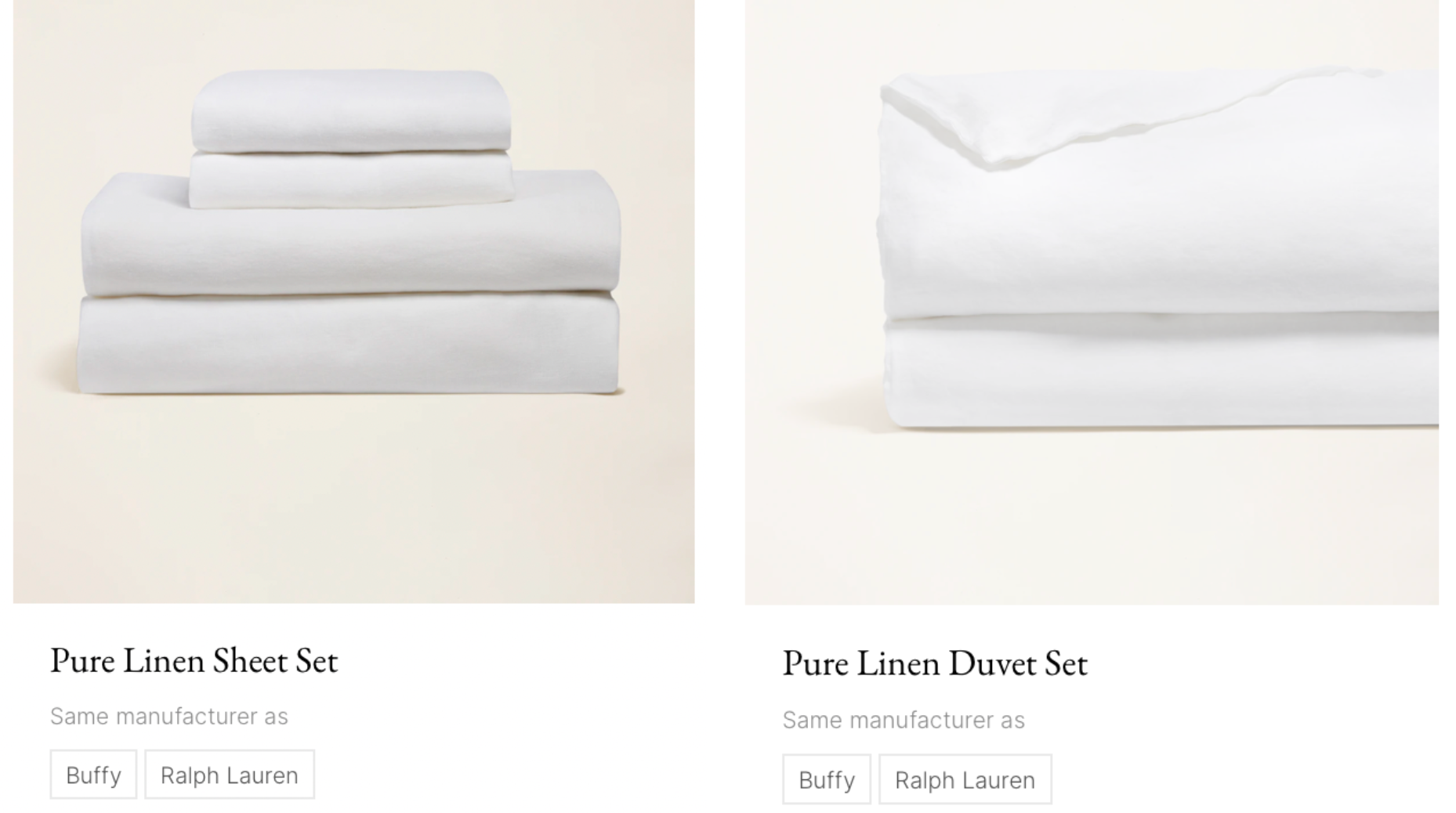 ---
TENCEL® (lyocell fiber) is a natural cellulose fiber from Eculaptyus trees that are produced using sustainable methods. This breathable fabric has the feel of cotton, but all the great benefits of linen. It's naturally moisture-wicking, temperature-regulating, and antimicrobial. Cool to the touch, TENCEL lyocell is ideal for hot sleepers but its breathability makes it enjoyable all year round. TENCEL fibers are smooth by nature and that makes them a great choice for sensitive or acne-prone skin.
Italic Breeze Eucalyptus Sheet Set and Breeze Eucalyptus Duvet Cover are made from premium 100% Australian TENCEL lyocell and made in an environmentally-responsible manner. They're 100% biodegradable, making them a great eco-conscious bedding option.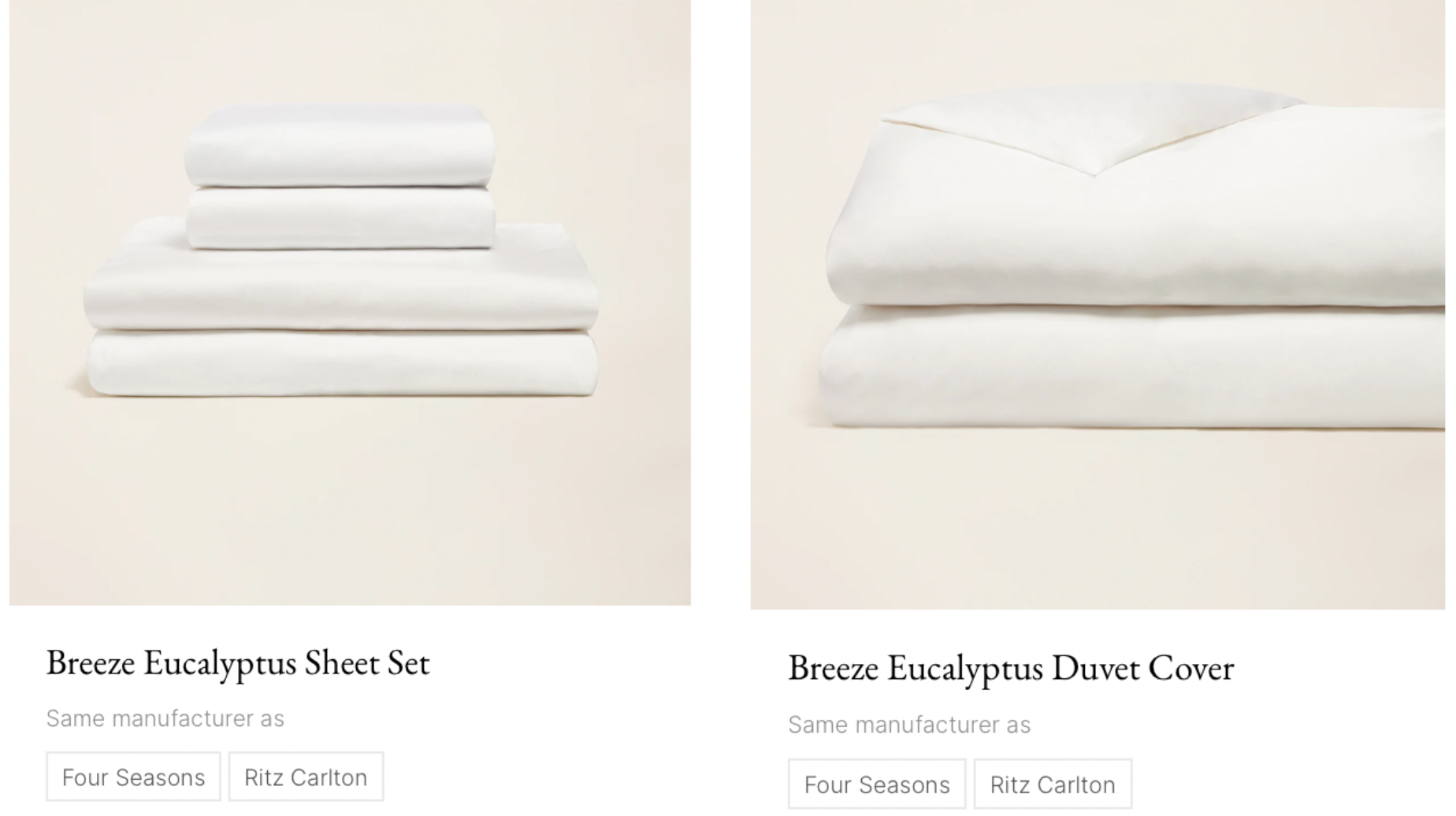 ---
Anything else to check before shopping for bedding?
Thread count: High thread count and fine density fabric are typically more durable, soft, and comfortable. Learn more in our blog about why thread count matters.‌‌
Sizing: While sizes seem to be universal, ranging from Twin to California King, there can be slight variations depending on the manufacturer. For example, some sheets have deep pockets while others are more shallow. It's a good idea to check the detailed dimensions to make sure the bedding will properly fit your mattress, pillows, or comforter.
Workmanship: Not all bedding is created equally. Italic bedding is developed with high-quality standards during the manufacturing process.
Care instructions: Proper care can prolong the life of your bedding and ensure you get the most out of your bedding.
Here are some best practice tips...
Even for pre-washed bedding, it's suggested that you wash your bedding before using it for the first time to ensure optimal cleanliness
For subsequent washes, wash your bedding weekly or bi-weekly per your personal preference and sleeping patterns
When washing, use cold water with a neutral detergent & similar color fabrics on a gentle cycle
Do not soak or bleach. If there are spots, instead spot clean by soaking/treating that concentrated area
To get wrinkle-free sheets, remove them from the dryer just before they're dry, and lay flat
When the sheets are completely dry, you can either place them on the bed or fold and store them in a cool, dry environment
---
Conclusion
There is no doubt that quality sheets are an important part of a good night's sleep. However, there's no single best material or construction for sheets. It all depends on your unique needs. The most important thing is that you find what makes you feel comfortable and relaxed at night so that you can rest easy.