Whether you're a professional chef or just starting out, every kitchen needs a good set of knives.
Kitchen knives are among the most important tools in a cook's arsenal. Whether you're cutting bread, chopping onions and vegetables, julienning them, dicing any protein, or cutting thin slices of fruit, you need a different type of blade.
Truth is, you don't need to have 20 different blades to create a reliable knife set for your kitchen. And while materials abound (stainless steel, carbon steel, ceramic, alloy steel, titanium), we think that stainless steel is the most reliable option: it's resistant to rust, corrosion and durable, and not too high-maintenance. Below, we gathered the fundamental bits of knowledge in the realm of knives and blades.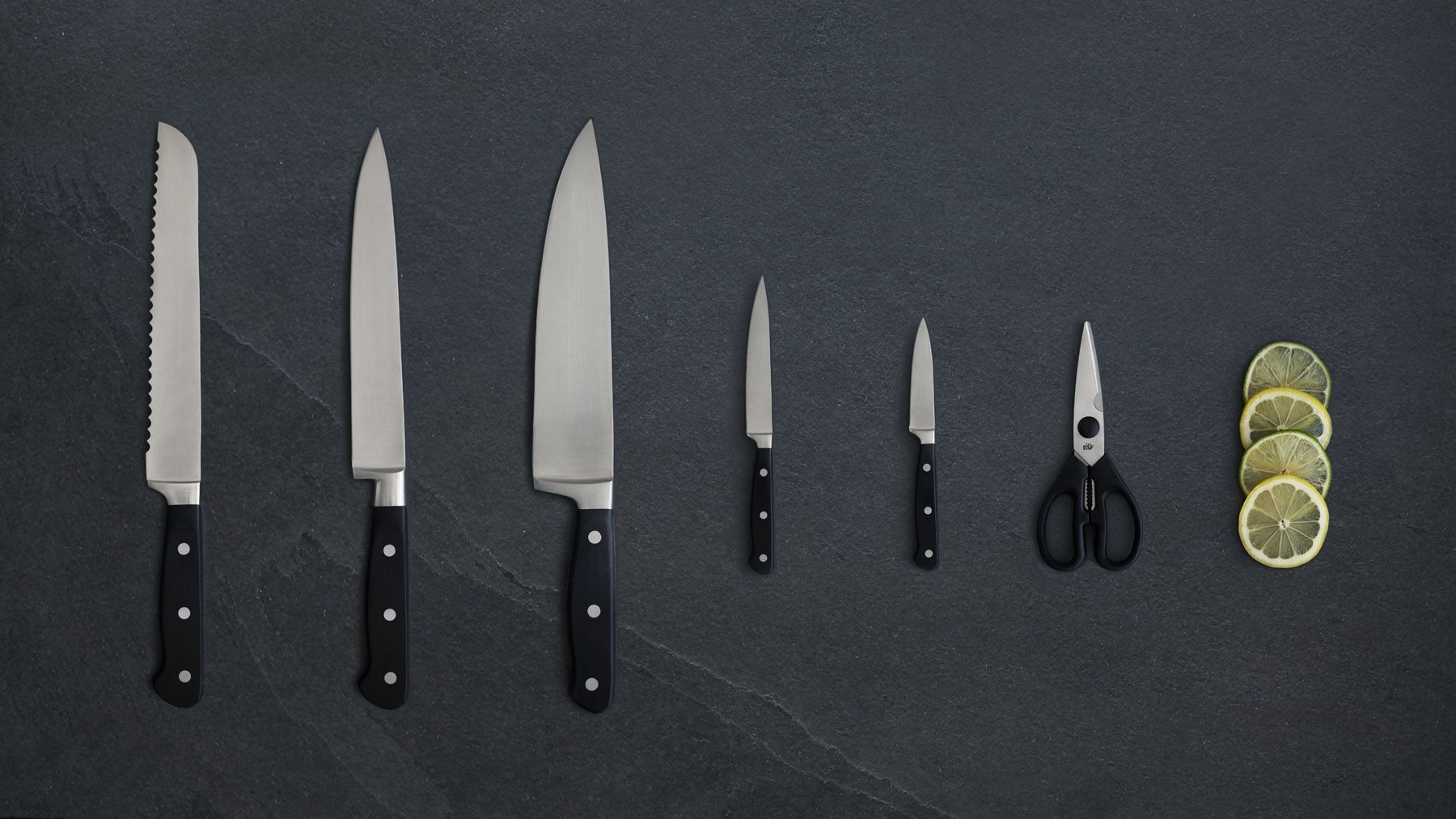 Quality over quantity.
Just like one only needs a dozen "investment" pieces in their wardrobe, the same is true of a knives set. Once you have a good chef's knife, a paring knife, and a bread knife, you can (depending on your ability)  execute most of the recipes, gimmicks, and tricks you read about on magazines, cookbooks, and youtube channels.

A Chef's knife has a long, curved blade that allows you to slice almost any type of vegetable with a rocking motion, a tip for delicate work and a sturdy handle. For more finesse work, a paring knife is a smaller blade that has a fine, maneuverable point. For harder surfaces, look no further than a bread knife: with its saw-like notches on the cutting edge of the blade, it can cut through items that have a tough exterior and a soft interior—this includes pineapples, bread, citrus, and, yes, tomatoes that need to be peeled.

An honorable mention goes to kitchen shears: usually relegated to other household tasks (opening packages, cutting through plastic), they are actually a very versatile tool when it comes to cutting up herbs, smaller vegetables and, yes, even protein.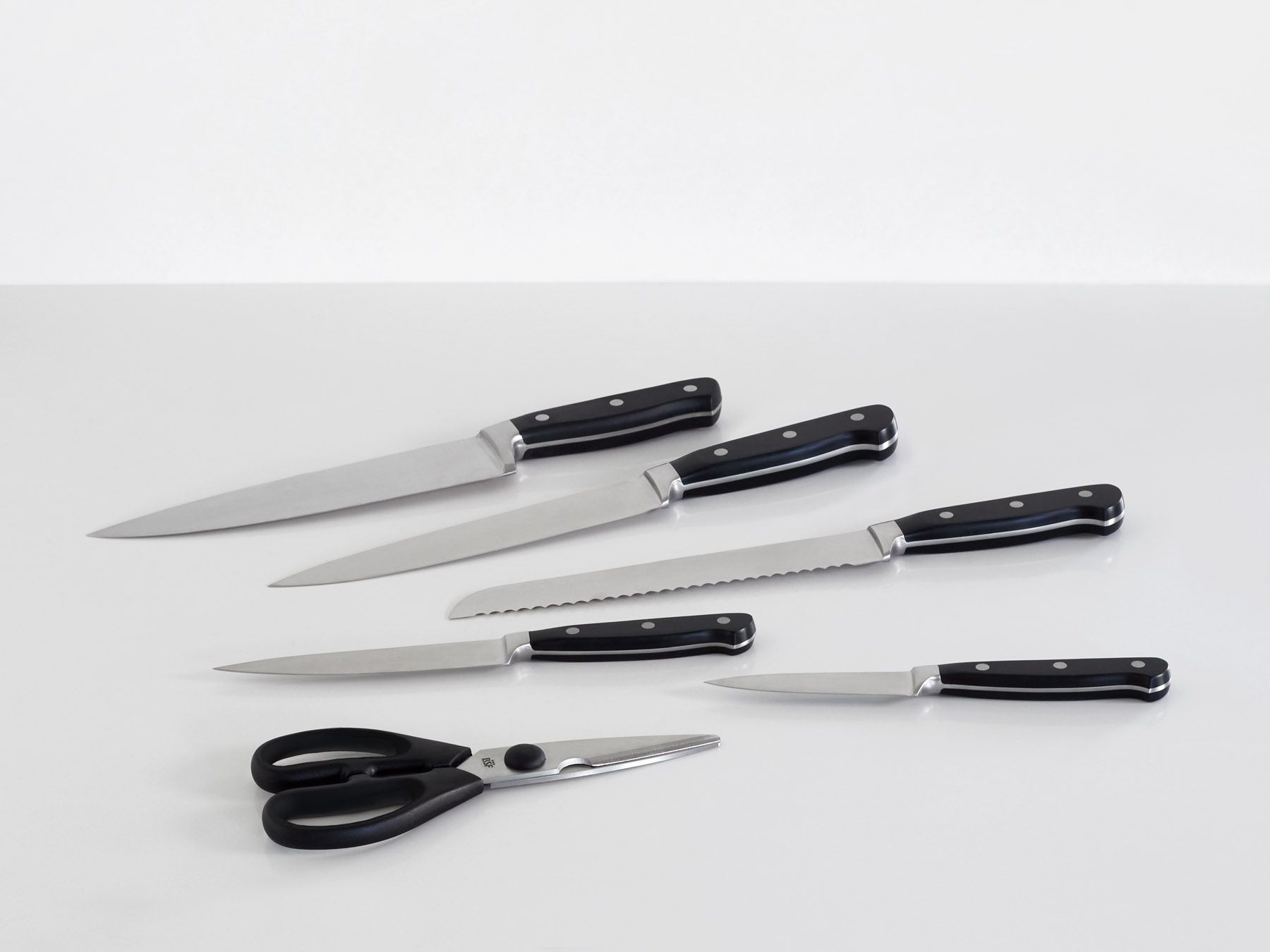 German and Japanese Knives All Have Their Merits
The most common types of kitchen knives are German and Japanese, and depending on what your needs are, either can be more suitable to you. When we talk about "Japanese" knives, we refer to Western-style knives manufactured in Japan—we're not talking about traditional Japanese blades. Angled at 12 to 15 degrees, made with a harder steel and with a straight edge that is better suited for chopping and slicing, a Japanese knife is lightweight, slim, and sharp, perfectly suited for precision work. Yet, these characteristics make it more prone to chipping and cracking.

By contrast, the German knife is angled at circa 20 degrees, has a curved geometry suited for the rocking motion of the act of chopping, and is generally heavyweight but made of a softer steel. This makes German knives less suitable for precision work, but the better choice for tougher tasks, such as cracking through bones.

Careful with the Cutting Board

You won't take your blades very far without an adequate cutting board: use the wrong surface and that will result in dull blades and poorly-cut food. Stone boards are better suited for pastries and dough; the eco-friendly bamboo is not that friendly to softer and harder blades (respectively, it deforms them and it dulls them); plastic, while cost-effective and seemingly versatile, is prone to cuts and scratches, so it easily becomes a fertile ground for bacteria. Wood, by contrast, is easy to maintain, durable, reliable, and, from a sheer aesthetic point of view, a visually appealing accessory. What's more, it does not let the bacteria linger on the surface, like plastic does: rather, they get syphoned into the board's depths, where they die of dehydration. A good scrub with hot soapy water is all it takes as a daily maintenance. Careful not to soak it in hot water, though: they can easily crack.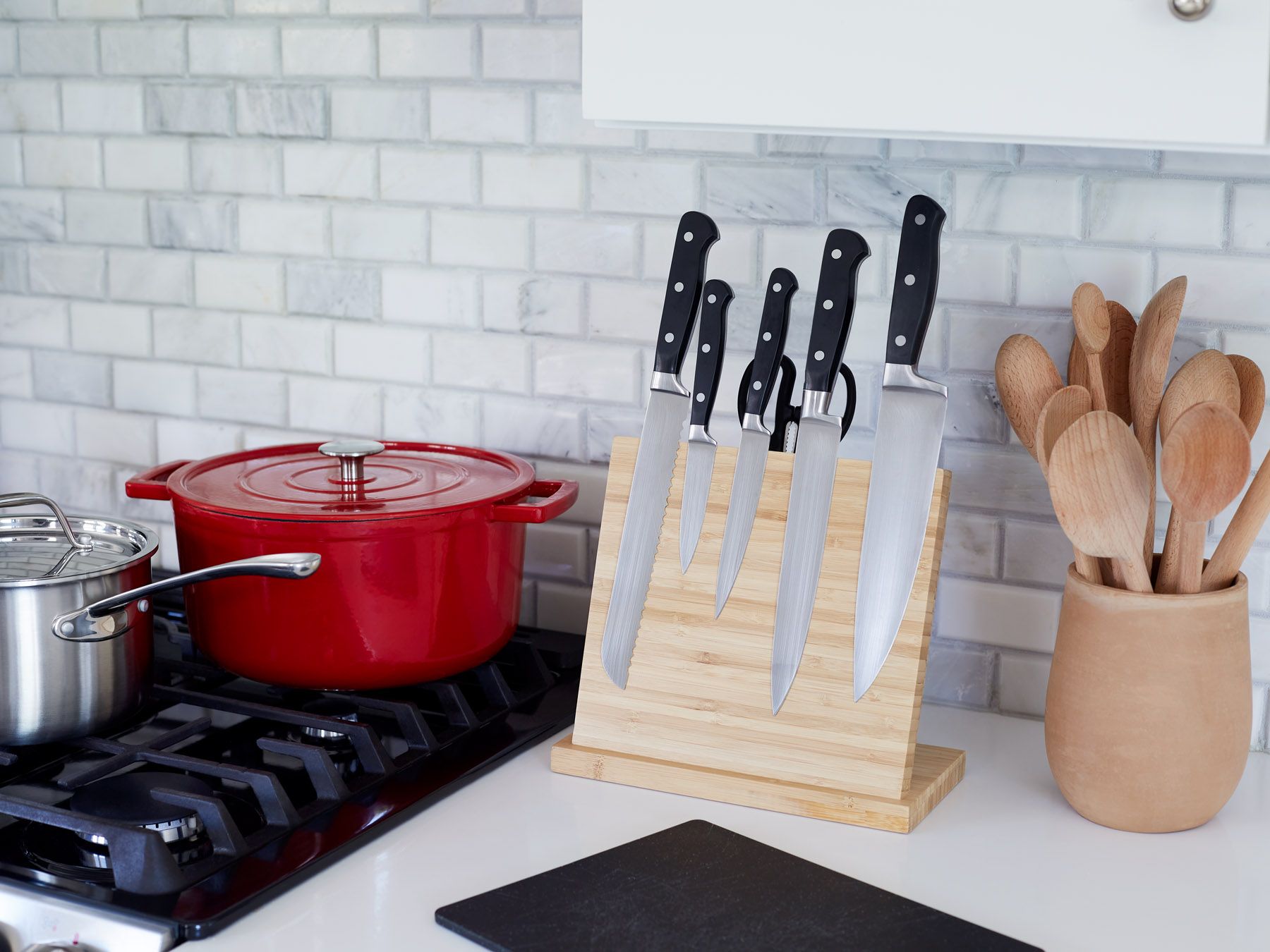 Where Italic Stands

At Italic, we like to provide elevated essentials with a little extra. This is why our Zest 7-Piece Forged Knife Set is composed of seven, and not five pieces: an 8" Chef's knife, a 8" slicing knife which is suitable for slicing roasts, fruit, and vegetables; a 8" Serrated bread knife; a 5" utility knife (a smaller version of the chef's knife); a 3.5" Paring knife and shears.
We used high-quality German forged stainless steel. Forging allows the metal to acquire extra density, hardness, and longer-lasting sharpness. Completing the set is an aesthetically pleasing bamboo storage block, which will prevent any clutter in your drawers.