Enter any kitchen, and you'll notice a range of cookware from various brands. With countless options, selecting the right cookware can be daunting.
But don't fret! We're here to help you navigate the top cookware brands on the market: All-Clad, Le Creuset, Calphalon, Cuisinart, and Lodge. We'll examine their quality, performance, design, and affordability so that you can choose the best cookware to suit your needs. Whether you're a seasoned pro or a novice, this guide will elevate your culinary skills and transform your kitchen into a culinary haven.
Let's dive right in!
1. All-Clad
All-Clad is a renowned cookware brand that has earned its place in the hearts of chefs and home cooks. With its exceptional stainless steel and aluminum-clad pots and pans, it has set a new standard in innovative design and superior performance. From frying pans to stockpots, each product is crafted to meet the unique needs of discerning cooks all over the world.
Quality and durability:
+ Extremely durable
+ Lifetime warranty
Performance:
+ Oven safe
+ Superior heat distribution
+ Essentially non-stick without Teflon
+ Easy to clean
Design and aesthetics:
+ Ergonomic handles
+ Utilitarian Design
- Scratches Easily
The best of All-Clad products
All Clad D3 Stainless Steel Cookware Set
The All-Clad D3 cookware set boasts a 3-ply construction, including two layers of stainless steel and a robust aluminum core. The aluminum core conducts heat exceptionally well and the stainless steel maintains heat consistency for even cooking. This set offers a high-performing cooking surface that can withstand the test of time.
All-Clad D5 Brushed 5-ply Bonded Cookware Set
The All-Clad D5 Cookware Set is a long-lasting investment for serious home cooks. Although it may not be budget-friendly and requires handwashing, this set is made with high-quality materials and built to last for many years.
2. Le Creuset
Le Creuset is a brand synonymous with premium cookware, celebrated for their high-quality cast iron and stoneware products. Le Creuset revolutionized cookware with their innovative enameled cast iron, inspired by vibrant enameling techniques from the ceramics industry. Their process creates a non-reactive, non-stick surface that's a breeze to clean and maintain.
Quality and durability:
+ Each piece is individually-cast
+ Lasts for generations
+ Guaranteed flawless
+ Uses enamel coating
- Limited lifetime warranty
Performance:
+ Built for heavy use
+ Versatile
+ Oven safe
Design and aesthetics:
+ Comes in vast array of signature bright colors
Affordability:
- Expensive
The best of Le Creuset products
The Le Creuset Dutch Oven is a kitchen essential that offers both functionality and elegance. Its enameled cast iron construction is made to last. This versatile piece can handle a variety of culinary tasks, from slow-cooking and braising to roasting and frying. Plus, it comes in an array of bold colors which adds a touch of sophistication to any kitchen.
This versatile skillet is a kitchen powerhouse that can handle anything from searing and sauteing to stir-frying. Its black satin enamel interior eliminates the need for traditional seasoning and maintenance of raw cast iron, while its specially crafted design allows for high surface temperature cooking. With time, the enamel develops a natural patina that creates a nearly nonstick surface, making it easy to clean.

3. Calphalon
Calphalon, founded in 1963 in Perrysburg, Ohio, has established itself as a leading cookware brand that offers a diverse range of high-quality kitchen products, including non-stick, stainless steel, ceramic cookware, bakeware, and more. Known for its exceptional performance and top-tier quality, Calphalon is the preferred choice for home cooks and professional chefs alike.
Quality and durability:
+ Thicker than most brands
+ Warp-resistant
- Limited warranty
Performance:
+ Built for heavy use
+ Versatile
- Most cookware is oven safe except for non-stick
- Limited stovetop compatibility
Design and aesthetics:
+ Utilitarian design
+ Comfortable handles
Affordability:
- Pricey, but not the most expensive option. Some pieces are expensive while some are competitively priced.
The best of Calphalon products
Calphalon Signature™ Hard-Anodized Nonstick 10-Piece Cookware Set
With this set, you can take your culinary skills to new heights and conquer any recipe with ease. This set's hard-anodized aluminum base ensures even heat distribution and durability, while the three-layer non-stick surface lets you cook with ease and confidence. The striking charcoal gray exterior and stainless steel handles also add an exquisite touch to your kitchen.
Calphalon Premier Space-Saving Hard-Anodized Nonstick Cookware
This is the ultimate solution for kitchen storage worries. This ingenious set features a stackable design that saves up to 30% of storage space, without compromising on quality. Its heavy-gauge hard-anodized aluminum base and triple-layer non-stick surface ensure durability and superior performance. Cook your favorite dishes with ease and elegance, all while freeing up valuable storage space in your kitchen..

4. Cuisinart
In 1971, Carl Sontheimer founded Cuisinart, a brand that has since become synonymous with innovation and high-quality kitchen appliances and cookware. From blenders to cookware sets, Cuisinart offers a diverse range of top-of-the-line products designed to make cooking and food preparation easier and more enjoyable for home cooks.
Quality and durability:
+ Decent quality
- Limited warranty
- Brand is known more for its appliances and food processors
Performance:
+ Versatile
+ Oven safe
+ Compatible with induction stovetops
Design and aesthetics:
+ Classy and functional design
+ Contoured handles designed to stay cool on cooktops
Affordability:
+ Reasonably priced
The best of Cuisinart products
Cuisinart Smartnest Hard Anodized Non-Stick Set
This 11-piece from Cuisinart  is equipped with sturdy nesting tabs, enabling the pans to stack neatly and securely, while the accompanying rack keeps the four glass lids organized. Each pan is crafted with a triple-layer construction that sandwiches an aluminum core between a hard-anodized exterior and titanium-reinforced interior, ensuring exceptional durability and even heat distribution
GreenGourmet Hard Anodized Set
This set leads the way to sustainable cooking. It's made with hard-anodized construction for superior heat conductivity and 70% recycled stainless steel handles. You can enjoy premium cookware while making a positive impact on the environment with Cuisinart's GreenGourmet™ line.
5. Lodge
Lodge, a family-owned cookware brand founded in 1896, specializes in cast iron and carbon steel cookware. Their durable and versatile products are still made in the USA using traditional casting techniques and high-quality materials. Today, Lodge is recognized as one of the world's leading producers of cast iron and carbon steel cookware.
Quality and durability:
+ Best known for their cast iron cookware
+ Extremely durable
+ Lasts for generations
- Limited lifetime warranty
Performance:
+ Versatile
+ Oven safe
+ Compatible with induction stovetops
Design and aesthetics:
+ Modern and sleek
+ No-fuss design
Affordability:
+ Reasonably priced
The best of Lodge products
This classic American skillet has been trusted by cooks for over 125 years. Not only is this skillet built to last, but it's also seasoned and ready to use right out of the box. So you can start cooking up your favorite recipes as soon as it arrives at your doorstep.
This multi-purpose kitchen tool is not just any ordinary skillet, as it can also be used to bake bread, slow cook meats, and prepare stews, among other things. Its secret weapon? The basting rings in the lid that allow moisture to circulate during cooking, resulting in an exceptional flavor and tender texture.
---
A note from Italic.
And there you have it!
Choosing the right cookware brand for your kitchen can make all the difference in your cooking experience. All-Clad, Calphalon, Cuisinart, Lodge, and Le Creuset are all top contenders and all for good reasons.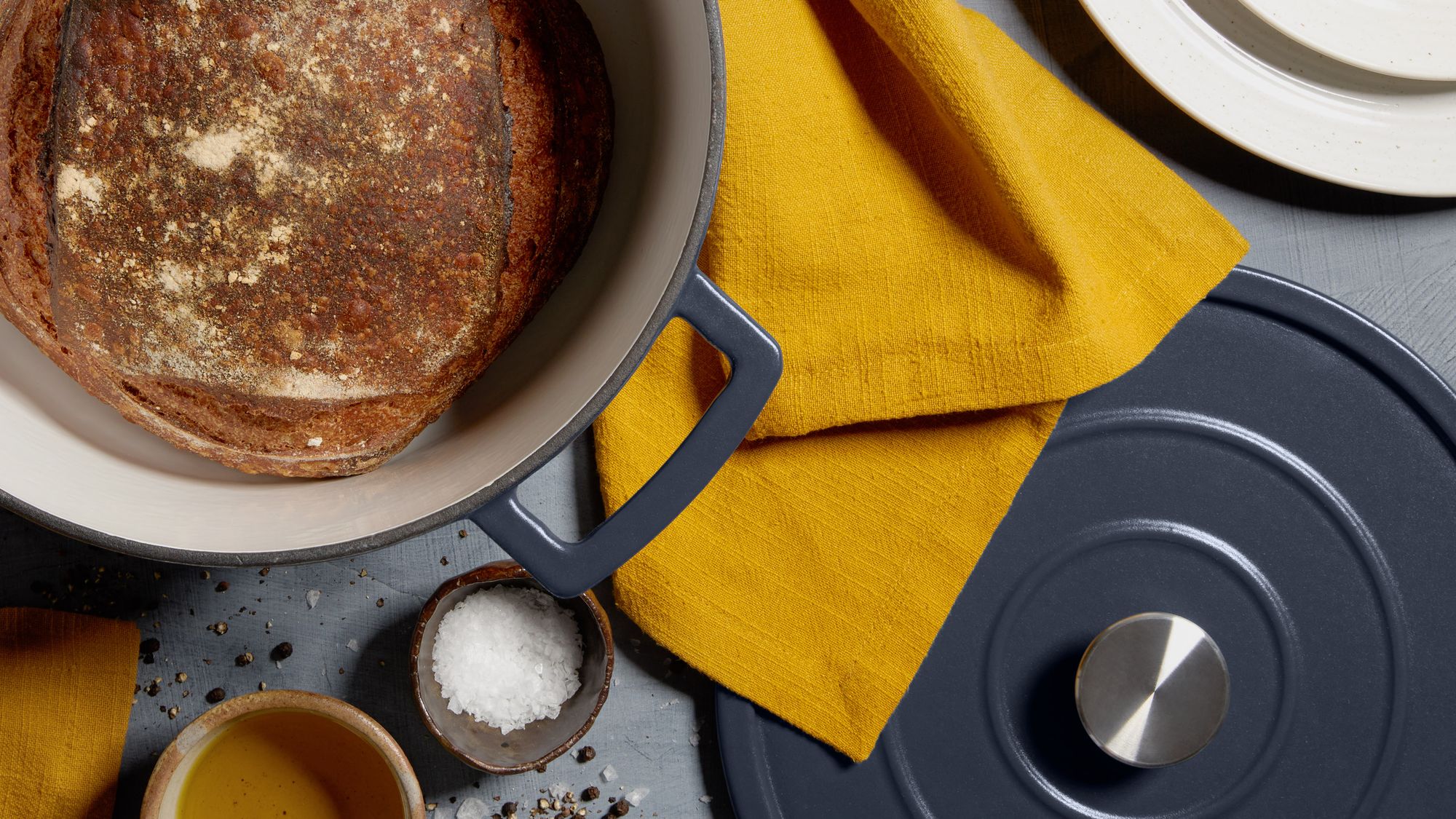 Each brand has its own unique strengths and features, so it's essential to evaluate your needs and preferences before making a decision. By considering these factors and using our guide, you can find the perfect cookware set that will elevate your culinary skills and help you create delicious meals for years to come. Happy cooking!