Ready to make your happy hour happier than ever?
We've rounded up the best drinking glasses on the market to add to your barware collection. Get the most out of your wines, cocktails, and spirits with the best brands for each type of glass.
Top Brands for Different Types of Glasses
Wine Glasses
It's been said that the same wine poured in different glasses will taste different in each glass. So if you think the brand of glass you use doesn't make a difference - think again. A high quality glass can enhance the unique characteristics of your wine including its texture and mouthfeel.
In order to fully enjoy your vino, we've rounded up the best brands of glasses to try. Here are the best glass brands for your next wine night.
1. Riedel
First on the list is Reidel - a brand used by top-rated wineries and restaurants throughout the world.
Riedel was the first to recognize that the taste and aroma of a beverage is affected by the shape of the vessel from which it is consumed. Wine glasses from Riedel are made specially for over 300 types of wines, allowing each wine to fully express its unique aroma, taste, and texture.
Riedel is a brand trusted for generations, and it's a definite must-have for anyone serious about their wine game.
2. Schott Zwiesel
Schott Zwiesel glasses are elegant and highly durable, making them perfect for those who want a combination of style and practicality. Schott Zwiesel is known for its patented Tritan crystal technology, which means that all their glasses are lead and barium-free.
It is the only glassware brand with an eco-profile, so you know that your Schott Zwiesel glass is sustainably produced. Apart from their stunning wine glasses, Schott Zwiesel also carries beer glasses and cocktail glasses.
3. Waterford
Escape the ordinary and add a touch of glam to any occasion with handcrafted glasses from Waterford. Waterford glasses are known for their unique crystal patterns that truly elevate the drinking experience. Vintage Waterford Crystal are coveted pieces to this day, so you know that purchasing a new piece for your collection will stand the test of time.
4. Baccarat
Baccarat brings a touch of French artistry and craftsmanship to every glass piece. Their website urges you to "discover the glass that matches your personality" – and you can do just that with the wide range of designs you can choose from. From sleek stemware for the minimalists to the geometric silhouettes for the bold ones, Baccarat has it all.
5. Zalto
Zalto is known for mouth-blown, ultra-thin stemware. But don't be fooled, despite its delicate appearance, Zalto glasses are incredibly durable. They are thoughtfully designed to enhance the aromas and flavors of wine, making every sip an experience to remember.
Beer Glasses
Not all beers are crafted equal, and the right glass can bring out the best in your chosen brew. So here are the best beer glass brands you should look out for.
1. Spiegelau
Spiegelau is a trusted name in the realm of glassware with 500 years of experience in crafting the best vessels for wines, beers, and everything in between. Spiegelau glasses are designed to enhance the aroma, flavor, and foam of your beer. Plus, they are durable and dishwasher-safe.
2. Libbey
Known for their durable and affordable glassware, Libbey glasses are perfect for those who want to enjoy their beer without breaking the bank. Apart from their beer glasses, Libbey is also a good choice for cocktail glasses.
3. Guinness
Want to feel extra lucky? Guinness glasses bring a touch of Irish tradition to your beer-drinking experience. The iconic pint has a wide rim and thin, lengthy walls to help showcase the velvety black color of Guinness. It's a no-fail choice to add to your collection.
4. Stella Artois
Stella Artois' signature chalice glasses are designed to enhance the crispness and effervescence of your beer. The stem keeps your beer cooler for longer but practicality aside, it's another iconic vessel for those who want to enjoy their Belgian beer in style.
Cocktail Glasses
1. Bormioli Rocco
Have you ever seen stackable stemware? That is what Bormioli Rocco does best. Their cocktail glasses are a design marvel. They are stackable and practical, yet still elegant and timeless. Its sophisticated silhouette easily complements fun and spritzy cocktails.
2. Nachtmann
Nachtmann's ethos is bringing luxury and sparkle to everyday life with glassware made of fine Bavarian crystal. With their unique designs, Nachtmann glasses are perfect for those who want to add a touch of creativity to their cocktails. Their glasses are not only beautiful but also functional, designed to enhance the taste and presentation of your drinks.
---
A note from Italic.
Well, that's a wrap! Investing in high-quality glassware is a treat that you deserve. Add a touch of glamor to any occasion and raise a glass to the finer things in life.
But remember that Investing in high-quality glassware does not always come with an expensive price tag. Just look at these glassware options from Italic – affordable, lead-free glasses made by the world's best craftsmen.
Enhance your favorite red or white with this set of lead-free crystallized glasses. Our high-quality vessels blend brilliance, durability, and sturdiness for a swirl and sip you'll surely remember.
Everyone should have a set of high-quality cocktail glasses. Made from durable, lead-free crystal glass, the Terre tumbler is a versatile addition to any bar cart. From whiskeys at happy hour to iced coffees in the morning, this set is certain to become your go-to.
These stemless, lead-free crystal glasses fit perfectly in the palm of your hand. They're an entertaining essential that can be dressed up or down with the wine of your choice.
Frequently Asked Questions
Q: What type of drinking glasses should I use for wine?
A: Red wines typically require a larger, wider bowl while white wines require a smaller, narrower bowl. Champagne is best served in a flute, and dessert wines are best served in smaller glasses.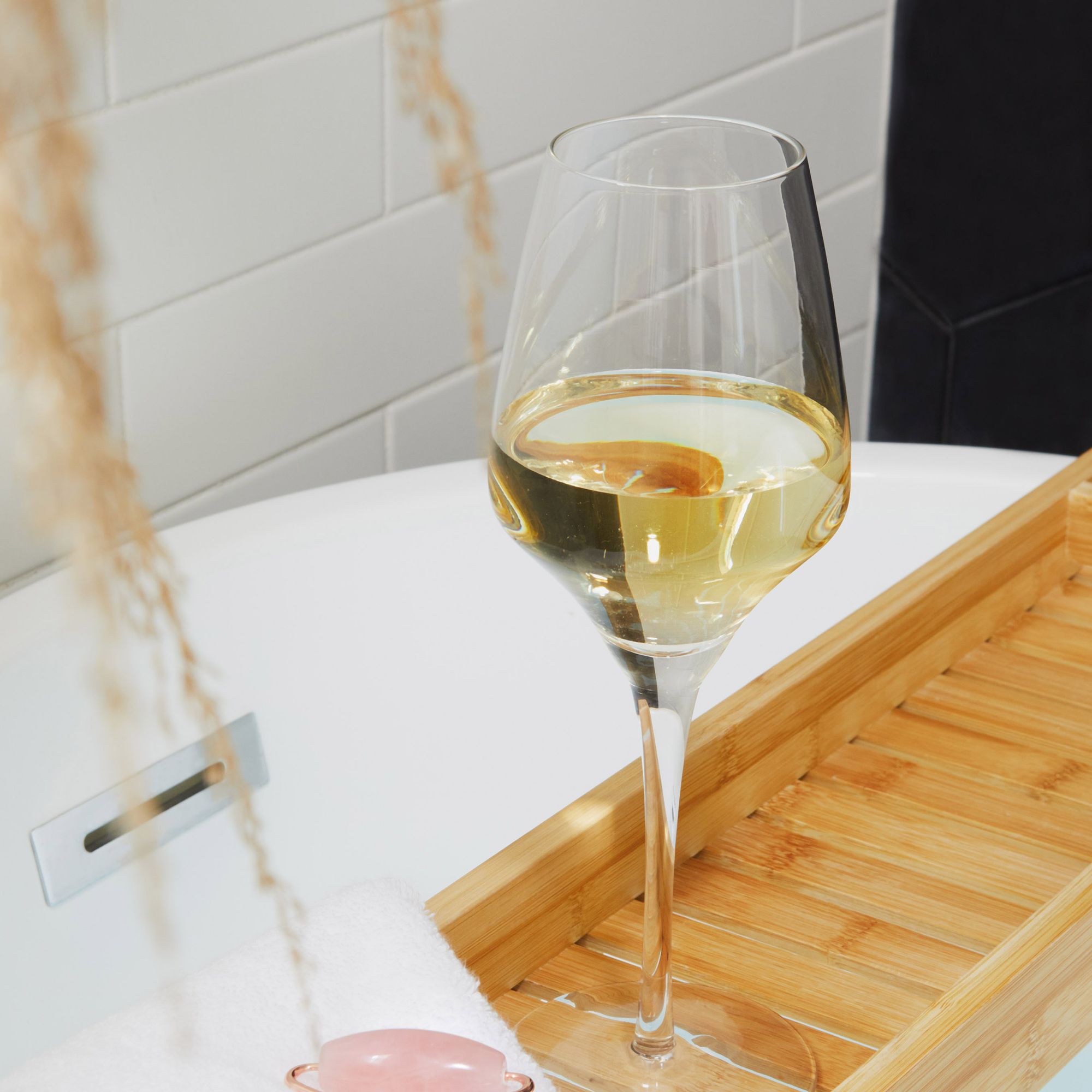 Q: What type of drinking glasses should I use for beer?
A: The type of drinking glass you should use for beer depends on the type of beer you are serving. For example, pilsners are best served in tall, slim glasses while stouts are best served in shorter, wider glasses. A pint glass is a versatile option that can be used for many types of beer.
Q: What type of drinking glasses should I use for cocktails?
A: The type of drinking glass you should use for cocktails depends on the type of cocktail you are serving. For example, a martini is traditionally served in a martini glass while a margarita is served in a margarita glass. Highball glasses are versatile and can be used for a variety of cocktails.
Q: What factors should I consider when choosing drinking glasses for wine, beer, and cocktails?
A: Factors to consider include the shape and size of the glass, the material it is made from, and the overall design. A glass that is well-designed for the specific drink being served can enhance the drinking experience.
Q: How should I care for my drinking glasses to ensure they last as long as possible?
A: Hand wash them with mild detergent and warm water, and avoid using abrasive sponges or cleaners. You should also store them in a safe location where they will not be easily knocked over or damaged.