Two things make a great fish dish. First, a fresh fish. Second, the right pan to cook your dish in.
Cooking fish can be very tricky because they are as delicate as they are delicious. Fish can stick to the bottom of the pan, cook unevenly, or not cook the way you want to. But once done right, preparing fish dishes can be so satisfying.
Whatever your recipe calls for, here are 10 of the best pans in the market to cook fish like a pro.
Non-stick Pans
Non-stick pans are great because of how they make prep and clean-up super easy, thanks to the non-stick coating that comes with each pan.
They have previously gotten a bad rap because of the health effects attributed to PFOA or perfluorooctanoic acid. But since 2013, most pans are PFOA-free and are more than safe to use for everyday cooking. Everyone needs a non-stick pan at home because they're versatile and can accommodate most fish dishes. Plus, you spend less time cleaning up after a hearty meal.
1. T-Fal Excite Non Stick 12" Fry Pan
Price: $27.34
T-Fal is our pick for the best value non-stick fry pan. It's a great starter choice and its performance is comparable to high-end non-stick pans. For beginners who are not sure about preheating, the thermo-spot indicator can help! The indicator right at the center of each T-Fal pan turns solid red once it's at the perfect temperature to cook. Because it's non-stick, you can use less oil or butter which makes for healthier meals.
2. Calphalon Classic™ Hard-Anodized Nonstick 5-Quart Saute Pan
Price: $87.99
Calphalon's hard anodized cookware is pretty famous. Hard-anodized cookware is created when aluminum is coated with a non-stick coating and fused together. This process makes Calphalon's pans 30% stronger than stainless steel, which is great news for durability.
The bonded aluminum helps distribute heat evenly, so it's perfect for cooking fish. While it may be a bit expensive, it's worth it because you're also paying for a lifetime warranty that comes with it. This means you'll get the most value out of this pan over time.
Stainless Steel Pans
Stainless steel pans are made from a blend of steel, chromium, and/or other metals. These pans are lightweight which allow you to easily maneuver your pan while cooking. They react to heat faster, which means they can heat up fast and can cool down as quickly. This is perfect for recipes that require a lot more finesse.
The best part about stainless steel pans is that they are non-reactive with acidic food unlike all the other pans in the list. You can use lemon, tomato juice, or vinegar to your heart's content without damaging your pan or your food.
3. All-Clad D3 Stainless 3-ply 12" Fry Pan
Price: $199.99
This 12" stainless steel pan from All-Clad is ideal for cooking at high heat, and flipping and tossing food in a snap. This pan heats extremely evenly, which is why it's a favorite by a lot of professionals, enthusiasts, and serious home cooks. This pan is compatible with any stovetop including induction cookers, and can also be used for baking. It's definitely an investment considering the price, but one that will last you a lifetime. With All-Clad's lifetime warranty, you're literally set for life.
4. Sardel 12" Stainless Steel Skillet
Price: $100
Sardel is an online kitchen brand that carries pans that are perfect for all kinds of cooking tasks. Their pans are made in Italy and distributed in the US. A standout feature of this pan is its ergonomic handle. The handle makes it easy to stir and flip your food around, so everything cooks evenly and fast. It's a good, high-quality stainless steel pan with a performance comparable to higher-end brands.
5. Temper Stainless Steel 5-Ply Fry Pan
Price: $65
If you want premium cookware at a fraction of the cost, you need to check out this 10-inch fry pan from Italic. It has 5 layers of stainless steel and an aluminum core which helps to distribute heat evenly. Italic carries products manufactured by the same companies that make cookware from higher-end brands. The brand's ethos – luxury without labels – ensures that you get the premium quality at reduced prices.
Cast Iron Pans
A cast iron pan retains heat longer than most pans which makes it perfect for dishes that require high temperatures. This allows you to cook fish with a golden, crispy skin and achieve that perfect browning. You can use it for searing, frying, and even baking.
Note that cast iron pans require a lot more effort when it comes to maintenance. Traditional cast iron pans need to be seasoned to retain that non-stick film and to avoid it from rusting. With these pans though, you'll get the love you give, because cast iron pans last throughout generations.
6. Le Creuset Signature Skillet
Price: $136.00 - $250.00
Consistent with the Le Creuset brand, the Signature Skillet is handcrafted in France using high-quality materials and has been made this way since 1925. The inside of the skillet is coated with a black satin enamel that doesn't require the traditional seasoning and maintenance that raw cast iron does. The enamel is made to withstand high temperatures and will develop a natural nonstick coating over time, making it really easy to clean. The porcelain enamel is really durable, doesn't require seasoning, and can even be cleaned in the dishwasher. Plus, it comes in a variety of colors.
7. Lodge Cast Iron Blacklock Skillet, Triple Seasoned
Price: $80
The Lodge Cast Iron Blacklock Skillet is a lighter pan than most cast iron skillets. This allows you to maneuver your pan easier, which is a big worry when using cast iron pans. It has a helper handle that stays cool so it can help you carry your pans with ease. Cast iron is also compatible with all stove tops including induction – you can even throw it on the oven or the grill, too!  If you love cooking with cast iron but hate the weight that comes with it, this is the perfect choice for you.
8. Italic Blackstone Cast Iron Dutch Oven
Price: $90
Are you in the mood for slow-cooked stews and soups? The Blackstone Cast Iron Dutch Oven from Italic's porcelain cookware line is right for you. The inside of the pot is coated with porcelain enamel, which helps to retain heat without causing your food to burn. The cast iron exterior is really tough and can be used on the stovetop, in the oven, or even on the grill outside. Like all Italic products, you're guaranteed to get premium cookware at reduced costs.
Carbon Steel Pans
If you can't decide between a cast iron or stainless steel – try carbon steel pans. It's a workhorse used by restaurants and a mainstay in the kitchens of serious home cooks. Carbon steel pans have the versatility of cast iron pans but the responsiveness and agility of a stainless steel pan.
9. De Buyer Mineral B Carbon Steel Fry Pan
Price: $60
The De Buyer Mineral B Fry Pan, crafted from carbon steel, has garnered popularity among chefs worldwide. Unlike cast iron, this fry pan boasts a lighter weight while outperforming stainless steel in heat conductivity. With proper seasoning, this fry pan develops a natural non-stick surface without the need for synthetic coatings or chemicals, and its performance only improves with repeated use.
10. Matfer Bourgeat Black Carbon Steel Round Frying Pan
Price: $74
This Matfer Bourgeat Black Carbon Steel pan will not disappoint. Bringing top-notch heat distribution and temperature control, this pan is an excellent choice for searing meats and fish, stir-frying and caramelizing vegetables. It is also compatible with all stove tops including induction, plus it's oven safe! It has that classic utilitarian, no-fuss design that Matfer Bourgeat is known for. You get that non-stick layer easily, after seasoning it just once.
Frequently Asked Questions

Q: How do you care for non-stick pans?
A: Damaged non-stick pans emit harmful toxins that can leak into your food. It is important to make sure that you do not damage your non-stick pans and care for it well. Here are some tips to remember:
Avoid metal utensils to avoid scratching the surface and only use silicone or wooden utensils.
Most non-stick pans don't do well in high heat. So don't overheat your nonstick pan and keep it at medium-heat.
Most non-stick pans are dishwasher safe but to ensure the longevity of your pan, hand wash as much as possible.
Only wash your pan once it has cooled. Use a soft sponge or other non-abrasive materials to wash your non-stick pans.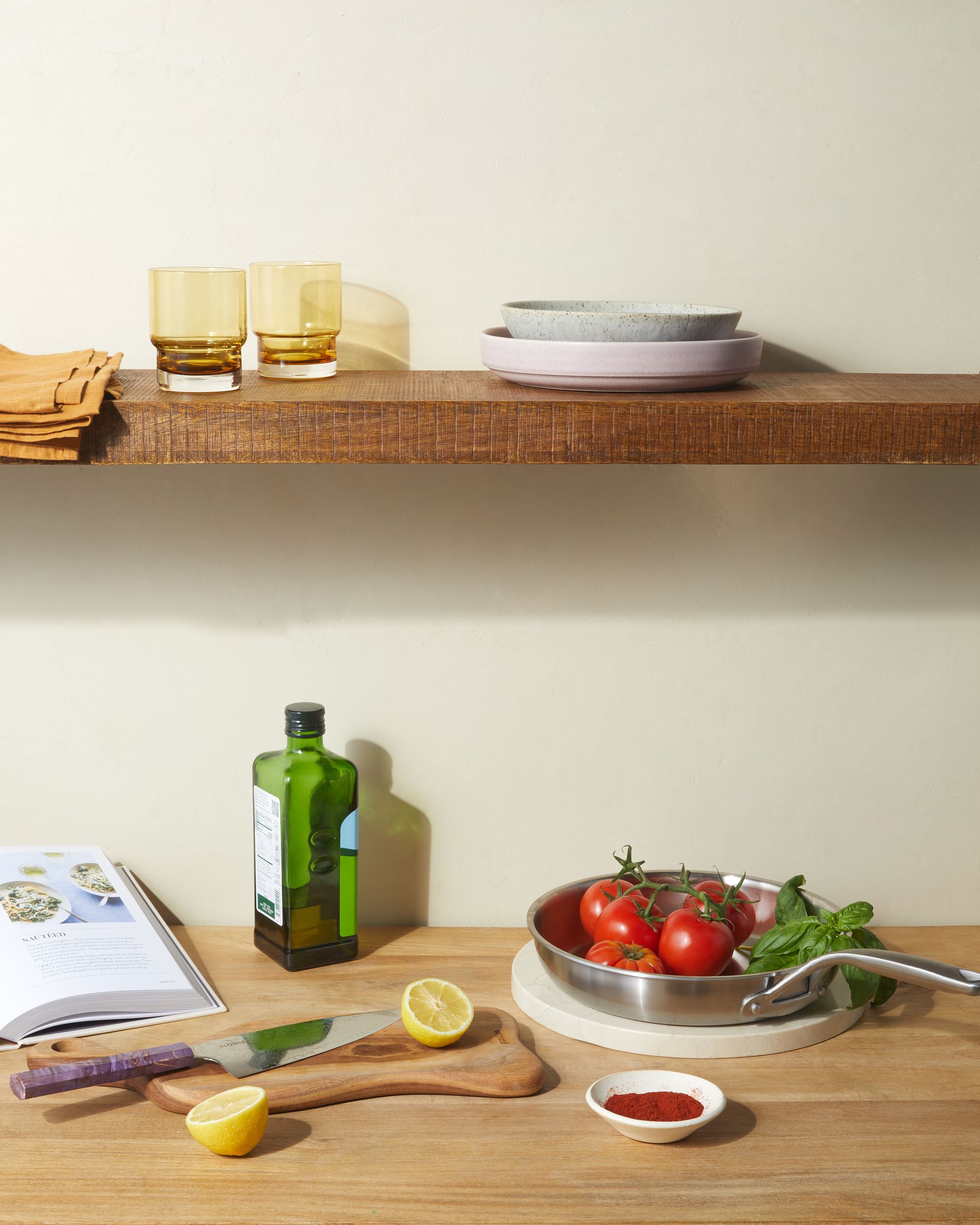 Q: Do I need to season my pan before cooking fish?
A: It's always a good idea to season your pan before cooking fish especially for stainless, carbon steel, and cast iron pans. This will help to prevent sticking and make it easier to clean the pan afterwards.
Q: How do you season your pan?
A: To season your pan, simply heat the pan over medium heat and add a small amount of oil. Use a paper towel to spread the oil evenly over the surface of the pan. Let the pan cool completely before using it to cook fish.
For cast iron and stainless steel pans, follow the manufacturer's instructions for seasoning the pan.
Q: How do I know what size of pan to use?
A: A pan that is too small or too shallow may cause the fish to overcrowd, resulting in uneven cooking and sticking to the pan. A pan that is too deep or too large may cause the fish to dry out or cook unevenly, leaving some parts raw while others are overdone. Consider the size of your fish, the number of servings, and method of cooking when choosing the size of your pan.
Q: How do I know if the pan is hot enough?
A: The "bead test" is a good way to gauge if your pan is hot enough to cook in.
---
A note from Italic.
In conclusion, choosing the best pan for cooking fish is important for achieving delicious, evenly cooked, and visually appealing dishes. Each type of pan, whether it's nonstick, stainless steel, cast iron, or carbon steel, has its own pros and cons.
Nonstick pans are great for easy prep and clean-up, while stainless steel pans are lightweight and best for acidic dishes. Cast iron pans provide great heat retention, and carbon steel pans are versatile.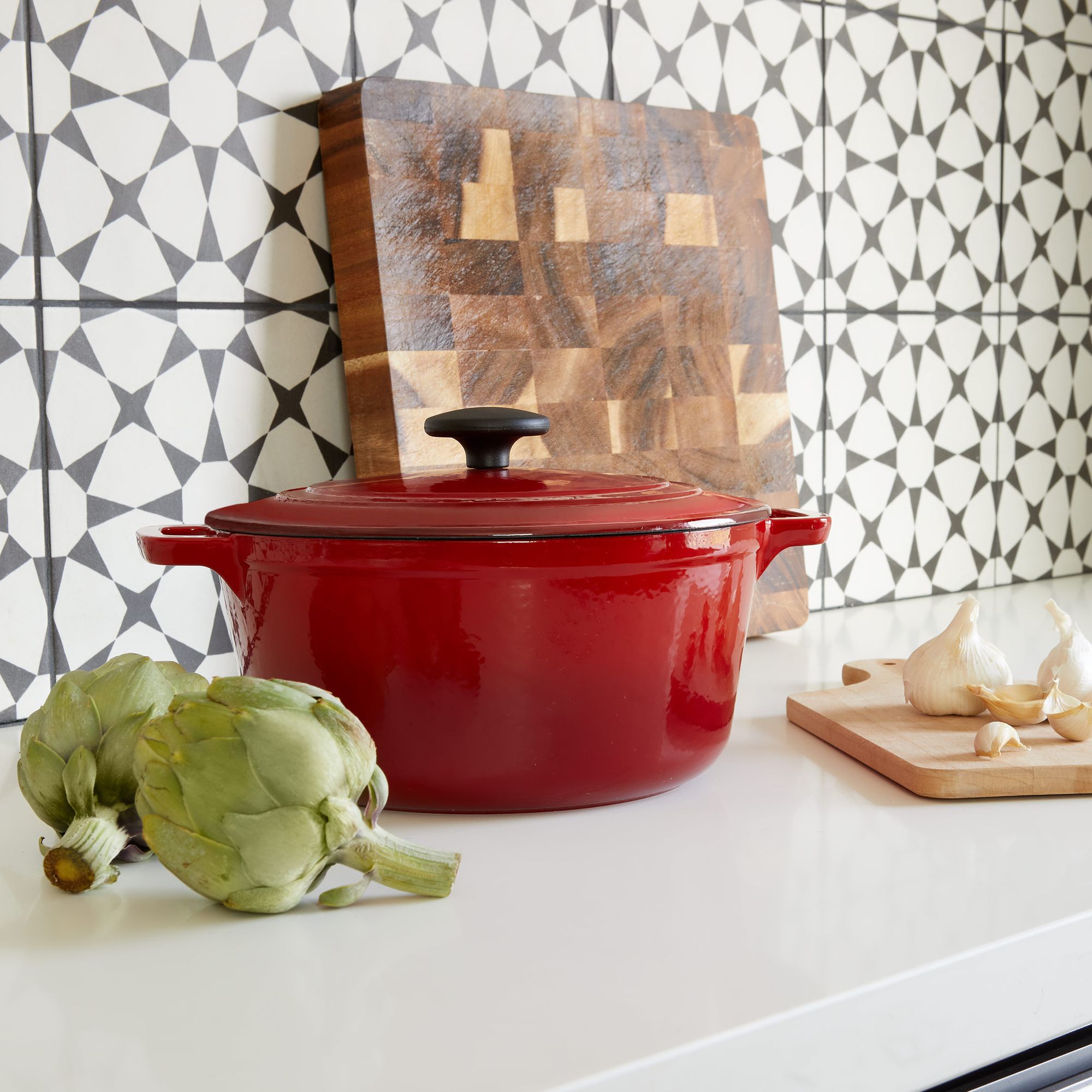 Ultimately, the best pan for cooking fish will depend on your personal preferences, your level of mastery in the kitchen, and cooking techniques. When it comes to cookware, quality will always take you further.