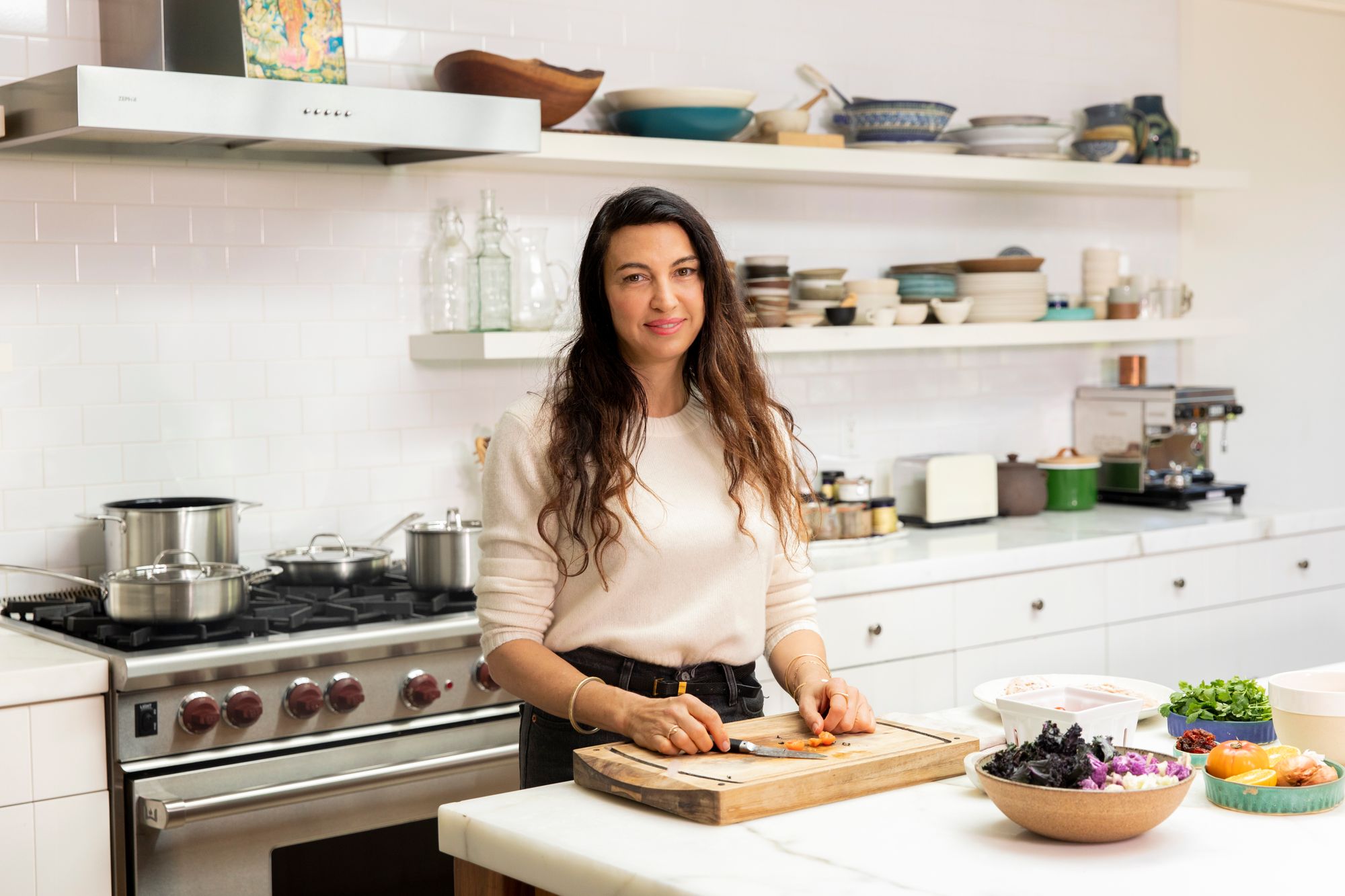 For Iranian-born actress-turned mom-turned beauty guru Shiva Rose, a devotion to clean living is what informs her every day. Born out of a desire to celebrate a holistic, healthy, authentic lifestyle without sacrificing taste or glamour, Rose began her blog, The Local Rose, and her 100% toxic- and chemical-free skincare line, Shiva Rose Beauty.
And while Rose is passionate about what women put on their skin, she's just as dedicated to nourishing the body through the food we eat. Growing almost all of the produce she uses in the backyard of her own home that she shares with her two daughters, Rose prepares meals and cooks food that help detoxify the body and nourish from the inside out.
That extends not just to the food Rose eats and prepares for her friends and family, but to the cookware she uses. Rose invited us into her stunning kitchen at her home in the Santa Monica mountains to share one of favorite recipes, using our Zest 7-piece non-toxic set of cookware—her favorite clean living, ceramic-coated pots and pans for cooking at home.
Chicken Piccata
Ingredients
4 chicken breast
1 jar of capers
1 jar of sun dried tomatoes
2 garlic cloves
1 shallot
2 Tbs olive oil
1 cup of wine (white is good)
Fresh herbs like thyme, oregano
1 cup flour (can be gluten free)
Sea salt
Pepper
Sumac
1 lemon
Steps
Place the chicken in a bowl of flour and slightly cover it with flour, then season with the salt and pepper.
In a sauce pan sauté garlic and shallots in olive oil. Once they are golden place chicken and cook until browned on the outside.
Remove the chicken with tongs, replace with the capers, sun dried tomatoes cook for a moment, then add the white wine let it simmer.
Add back the chicken and squeeze the lemon on it and add the herbs.
Place the lid on pan and cook thoroughly.
Taste and add salt and pepper if needed.
---
Farmers Market Vegetables
Ingredients
I like to visit the market and see what's in season that way I feel in rhythm with the environment I'm living in.
1 cup vegetables of your choice
1 onion or shallot
1 garlic
1 tbs plum vinegar
1 tbs olive oil
2 tsp Tamari sauce
2 tbs sesame seeds (black are great and nutritious)
Sea salt
Sumac
Steps
Lightly steamed the vegetables.
In a frying pan, sauté the garlic and shallot in olive oil
Added the lightly steamed vegetables and, as they are cooking, add the plum vinegar and tamari and sesame seeds.
Finish by adding sumac and toss all together. Season with salt if needed.