We asked. You said, "skincare."

A revolution has been brewing for quite some time now. Big-name brands have been a part of it. Science has been part of it. Your social feed has been a part of it. And now we're excited to completely overhaul it—bringing to you the benefits of premium skincare at accessible prices.

We should say, we've been excited about doing this for two years!

"Our customers have been asking for beauty for a long time," says Italic's Beauty Expert Kristin Liang. "Building it to fruition took us two years because we were hyper-focused on getting it right and partnering with industry-leading labs. After rounds and rounds of iterations, we finally perfected the formulas."

The revolution at hand (and face) is a democratization of science-led skincare. Contemporary retailers and DTC brands alike have successfully created high-end ingredients and formulations, offering serums, creams, and pure, single-ingredient products that all take a scientific approach to skincare.

However, while entering this new exciting space, we learned something striking: there are only a handful of raw-material companies that beauty brands commonly use. For the most part, the ingredients are all coming from the same places.

And there's a major discrepancy between how much those raw-material bases actually cost and how they're priced.

"Traditional beauty brands have a 90% markup between the actual cost to make the product and the retail cost," says Liang. "That means if a brand is selling something for $50, it probably cost $5 or less to make. We ignore the beauty industry standard markup to give our customers the best value."
After years of thoughtful development, we're so excited to finally launch a skincare line. (We've owed you one!)

Here's what's in it...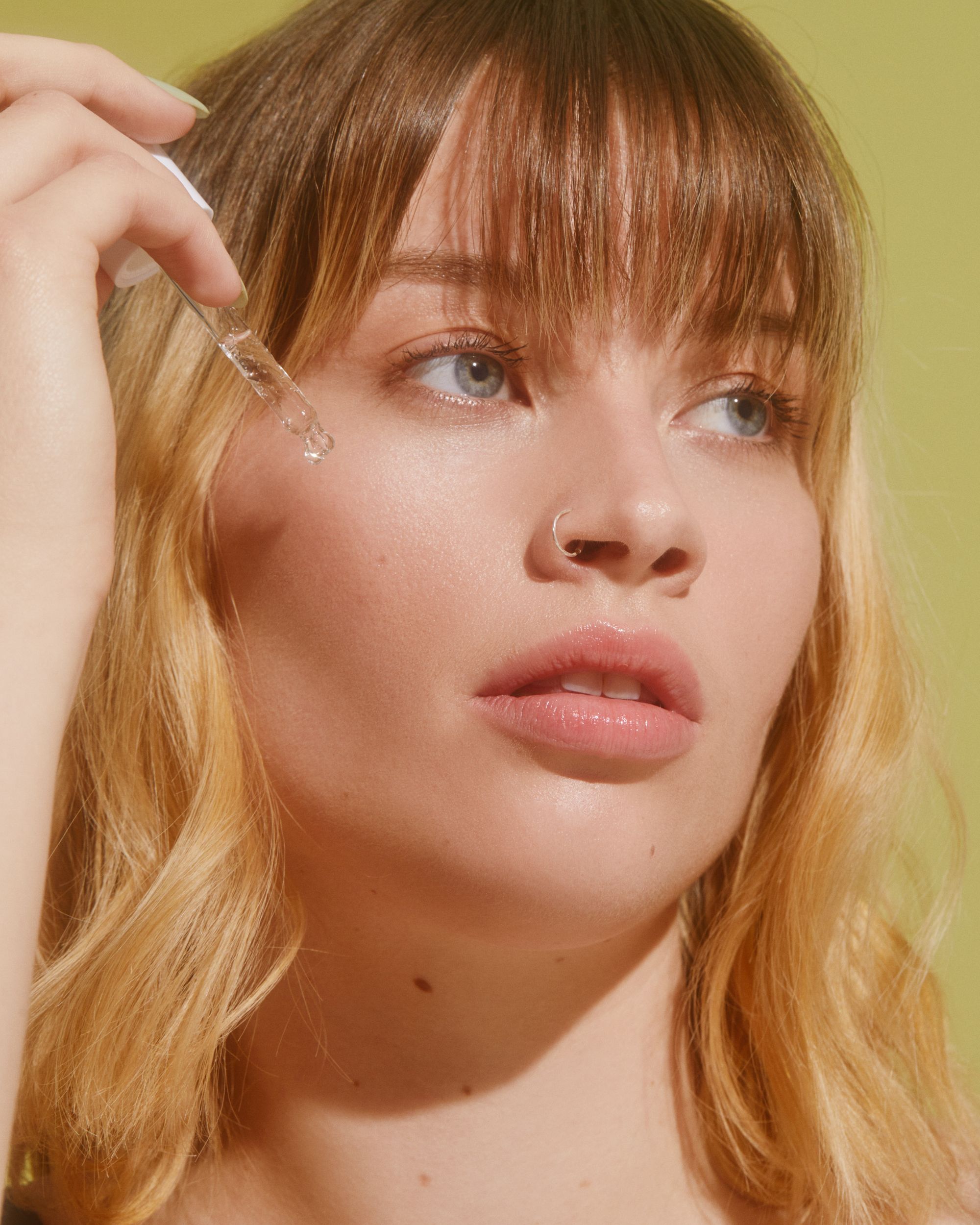 Serums that go above and beyond
Our Peptide Renewal Serum was developed to reduce the appearance of fine lines and wrinkles, a formulation that, back in the day, would have been called "anti age". We prefer to think of it as a superfood for the skin.

Into this serum we packed seven peptides, which are the compounds of proteins (like collagen) necessary for strong, healthy skin.
We added Damask Rose and Rosemary to keep inflammation at bay.
For an added push, we included an additional amino acid from Japanese Grape to help improve skin elasticity.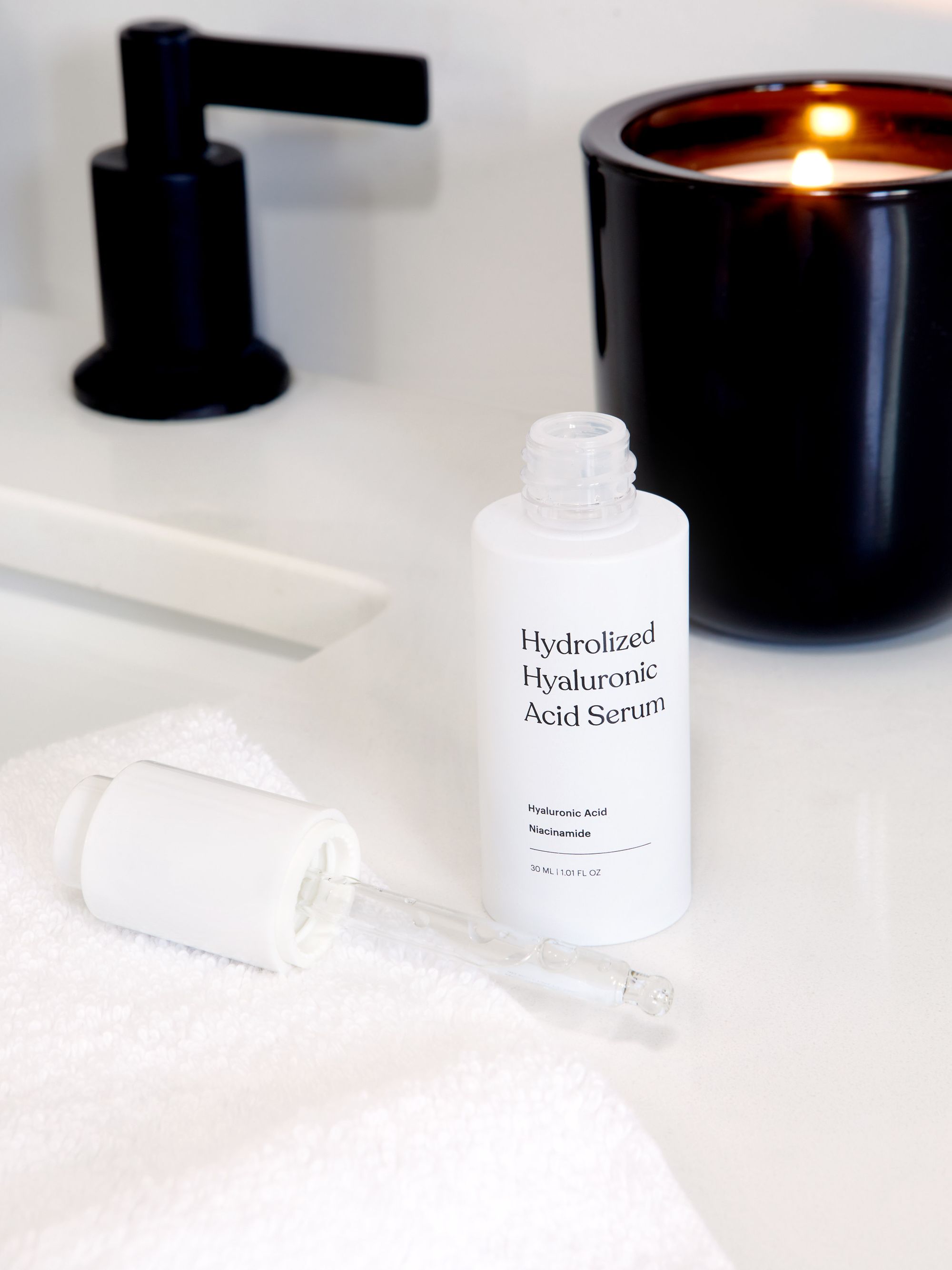 Our Hydrolized Hyaluronic Acid Serum was born to become your ultimate holy grail of hydration. It's suitable for skincare beginners and veterans alike, and plays well with most other skincare. What a warrior!

Generally speaking, Hyaluronic Acid provides immediate results on the appearance of fine lines and wrinkles by drawing moisture and retaining it.
For this formulation, we decided to enrich the Hyaluronic Acid with Niacinamide to help visibly improve the appearance of pores, skin texture and hyperpigmentation. Niacinamide is a form of Vitamin B3, and helps to improve skin over time.
Also included is Rice Ferment Filtrate to help hydrate, tone, brighten, and balance uneven skin tone.

Moisturizers with the most-est
Caviar. We went with caviar. No matter your moisturizing routine, you want something that both absorbs and retains. For that reason we decided to specially formulate our moisturizers with Marine Caviar (because you're worth it). Marine Caviar is extracted from the caviar of sturgeons which helps provide long-lasting moisture. "(It) contains amino acids that keep skin hydrated, fatty acids that help prevent transepidermal water loss, and vitamin A to encourage cell turnover," says Liang. "Overall, Marine Caviar nourishes and moisturizes skin."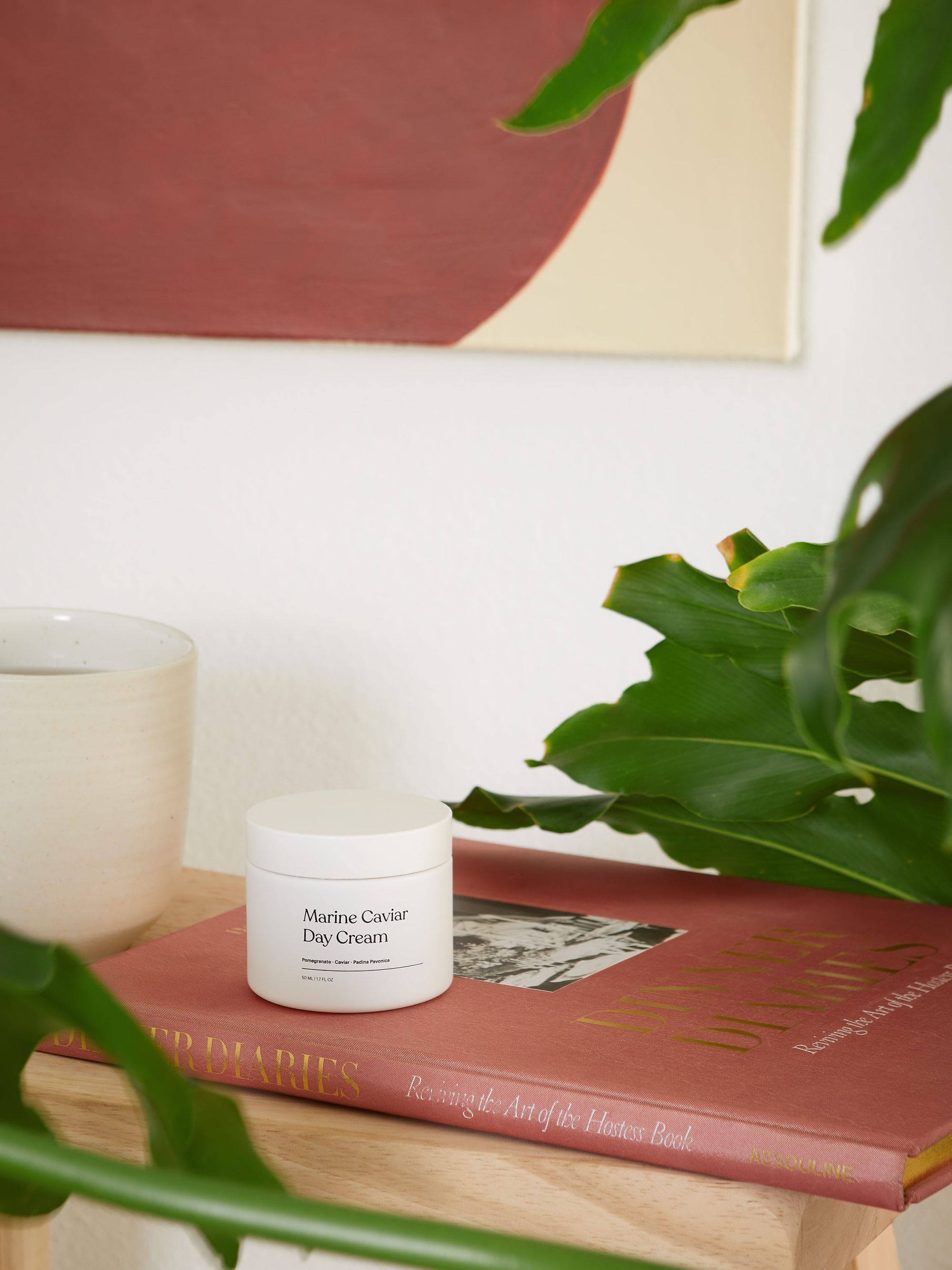 This daily moisturizer has a creamy texture with the most beautiful slip. (Slip is how us product developers describe the way a formula glides onto skin with little to no friction). Get the most natural glow without looking oily.

We developed the day cream to absorb quickly into the skin, leaving behind an overall radiant complexion.
Ingredients like pomegranate help to plump up the skin while providing antioxidant benefits.
We chose to encase it in a jar because a jar is more compatible with the cream's texture. The packaging helps the cream form soft peaks and melt into the skin when blended.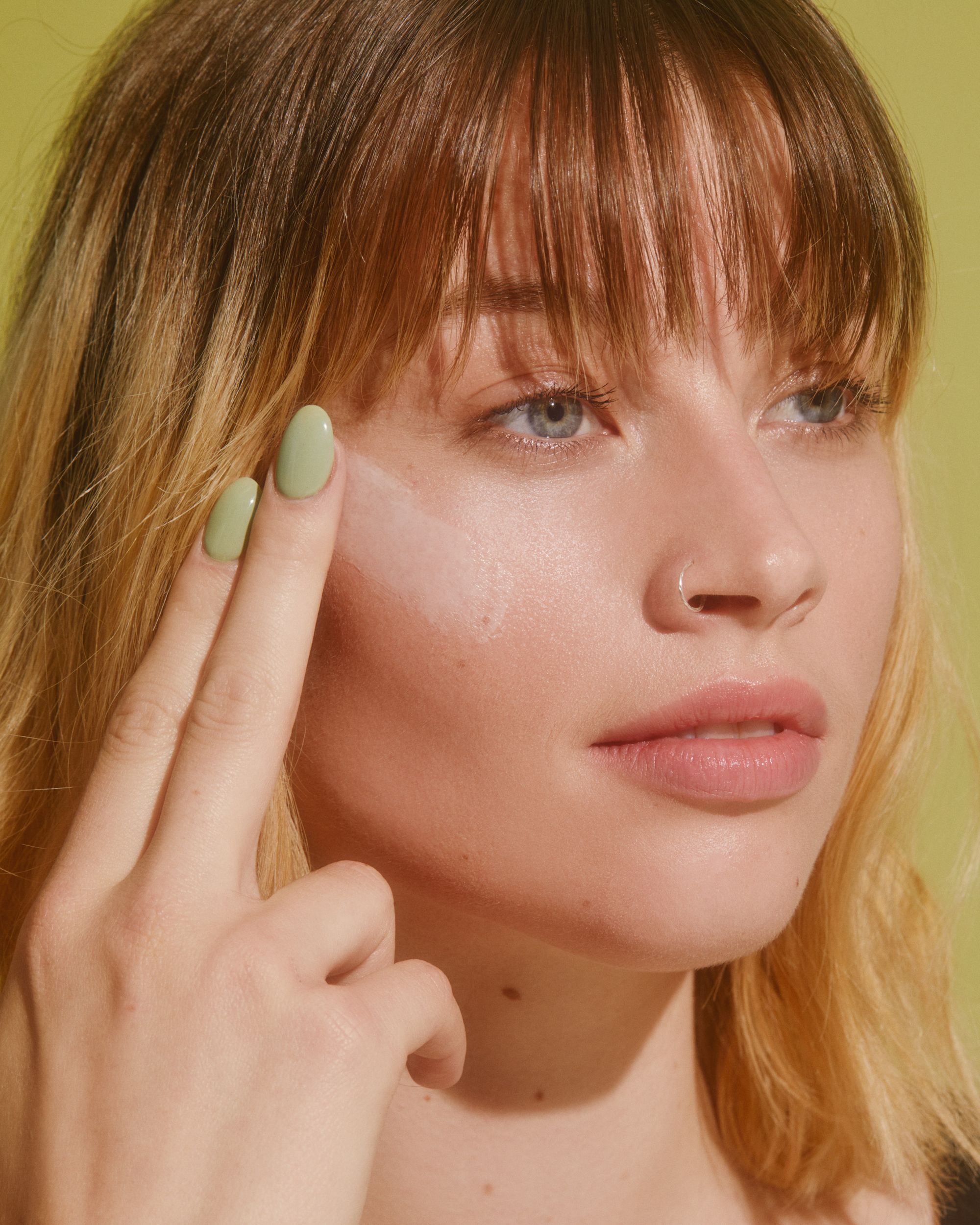 This night cream is like the day cream, only more hydrating, which is better for nighttime. We recommend adding a little extra under your eyes at night, waiting 10-15 minutes and wiping off any excess. It's like a quick, nourishing eye mask.

Our night cream contains jojoba seed oil, which helps regulate oil production.
We also included baobab to tackle the appearance of fine lines and help increase skin elasticity.
One more nuance to this cream is roselle. As you sleep, it smoothes and revitalizes the appearance of the skin.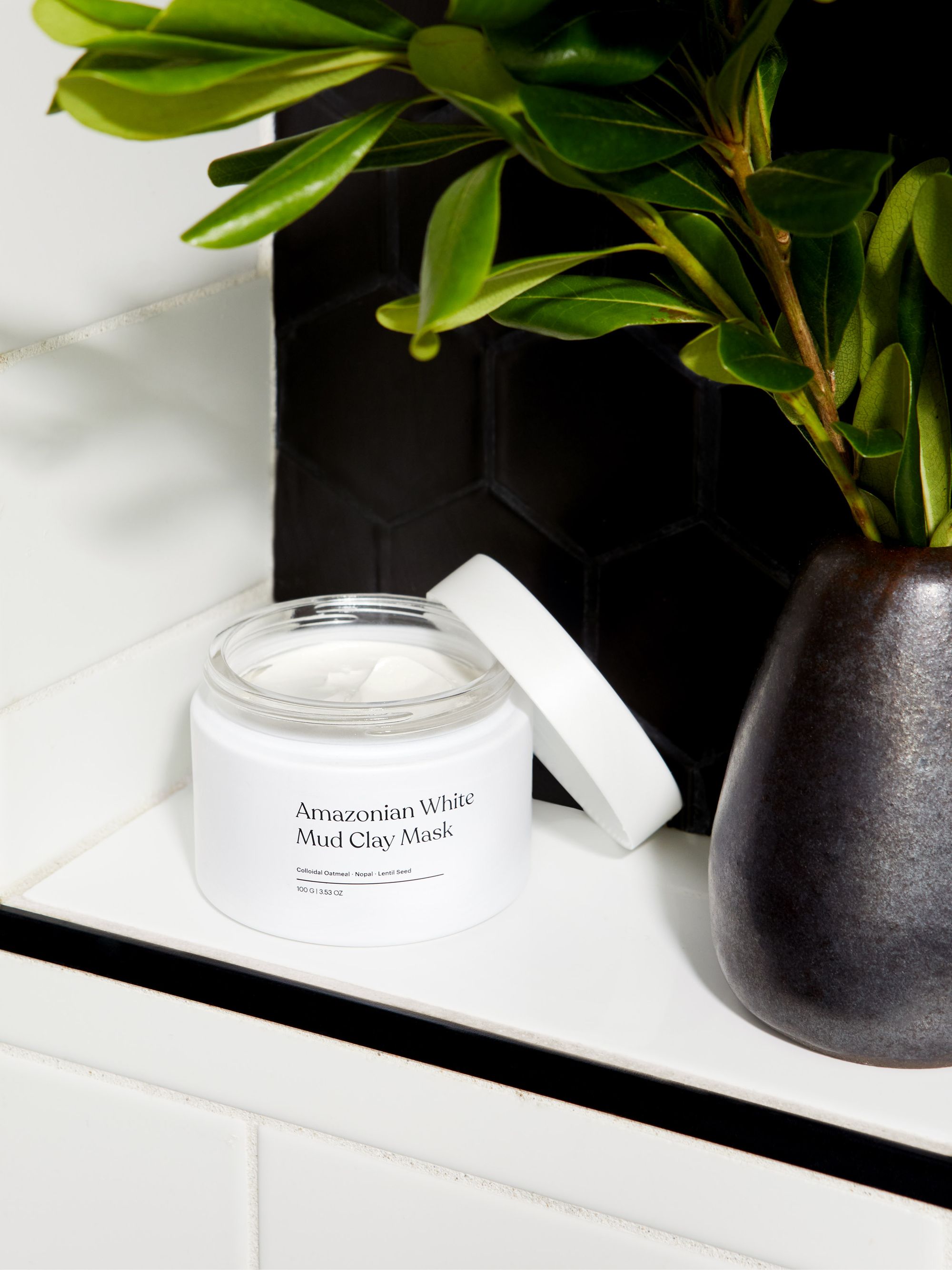 The mask that clears things up
Our Amazonian White Mud Clay Mask was developed to be incredibly soothing and to prevent irritation. (We've found other clay masks pull on skin and feel uncomfortable when they dry). "I love this formula because its creamy texture makes it suitable for both dry and oily skin," says Liang.

We included Colloidal Oatmeal to soothe the skin and provide anti-inflammatory benefits, as well as Nopal, which is high in antioxidants.
Like our serums, the mask includes the powerful Hyaluronic Acid to bring more moisture to your skin.
Finally, we threw in some lentil seed to help the appearance of pores and improve skin texture.

While each product in the Italic Beauty line is effective on its own, we encourage you to mix and match to find your perfect routine.

"Definitely layer the Peptide Renewal Serum and Hydrolized Hyaluronic Acid Serum together," says Liang. "This will only maximize the results!" She also recommends locking in the lightweight serums with a Marine Caviar moisturizer for added moisture.
We can't wait for you to dive in! And as always, be sure to let us know what you think.