Day to day dressing may look different in light of Covid, but the need for polish never wanes. Enter Audrey, the new ladylike satchel designed by our very own CCO, Annie Chen. Equal parts iconic and versatile, Audrey's fine craftsmanship showcases all of her beautiful and thoughtful details.

For a closer look, we sat down with Annie to hear more about what inspired the bag, its classic heritage, and the design elements that set the style apart.

What was the design inspiration behind Audrey?
A: I wanted to design a ladylike satchel, the type of bag that adds instant flourish and polish to any outfit—even sweats!  Italic is based in LA so that's always been the vibe here, even pre-quarantine. People in LA tend to be dressed very casually and effortlessly but with a statement accessory for a "pop." We wanted Audrey to satisfy that need.

How do you bring that inspiration to life?
Annie: The shape riffs on iconic vintage silhouettes that I've always coveted, but it modernizes them with architectural features like the angular flap. We also played a lot with the proportions here - we wanted a bag that wasn't too big or too small, but just right.  Sometimes when bags get too big, they no longer feel as elegant!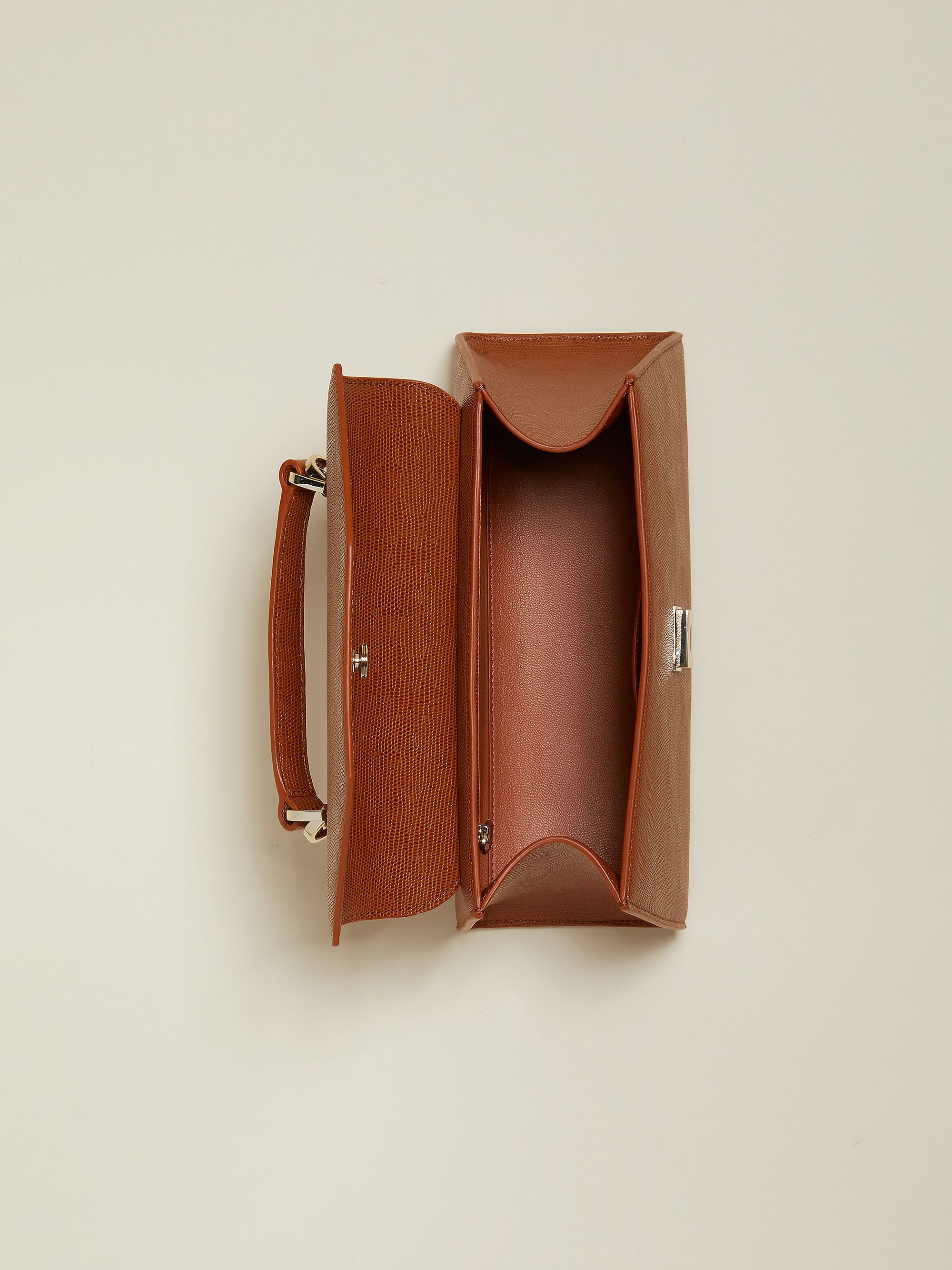 What special features are your favorites?
Annie: There are so many different elements of Audrey that are special and made to look and feel luxe, along with so many thoughtful details that we took into account when designing it. The lambskin lining is heavenly—it really has to be experienced to be believed! The first time I felt it, I couldn't stop petting it because the tactile element was so delicate and buttery. We selected a beautiful rich saddle color for the lining to bring out the authenticity of the materials. The bag has a back pocket for sliding your phone in so you never have to hunt for it when you're on the go.  We added an inner zip pocket to secure your valuables, and the bag has small metal "feet" on the bottom, so you don't have to worry about wear and tear when you set the bag down. We even custom designed the hardware in a warm but sophisticated light gold color that we refer to as "9K"—it's not overly shiny or brassy, so it feels timeless and matches everything.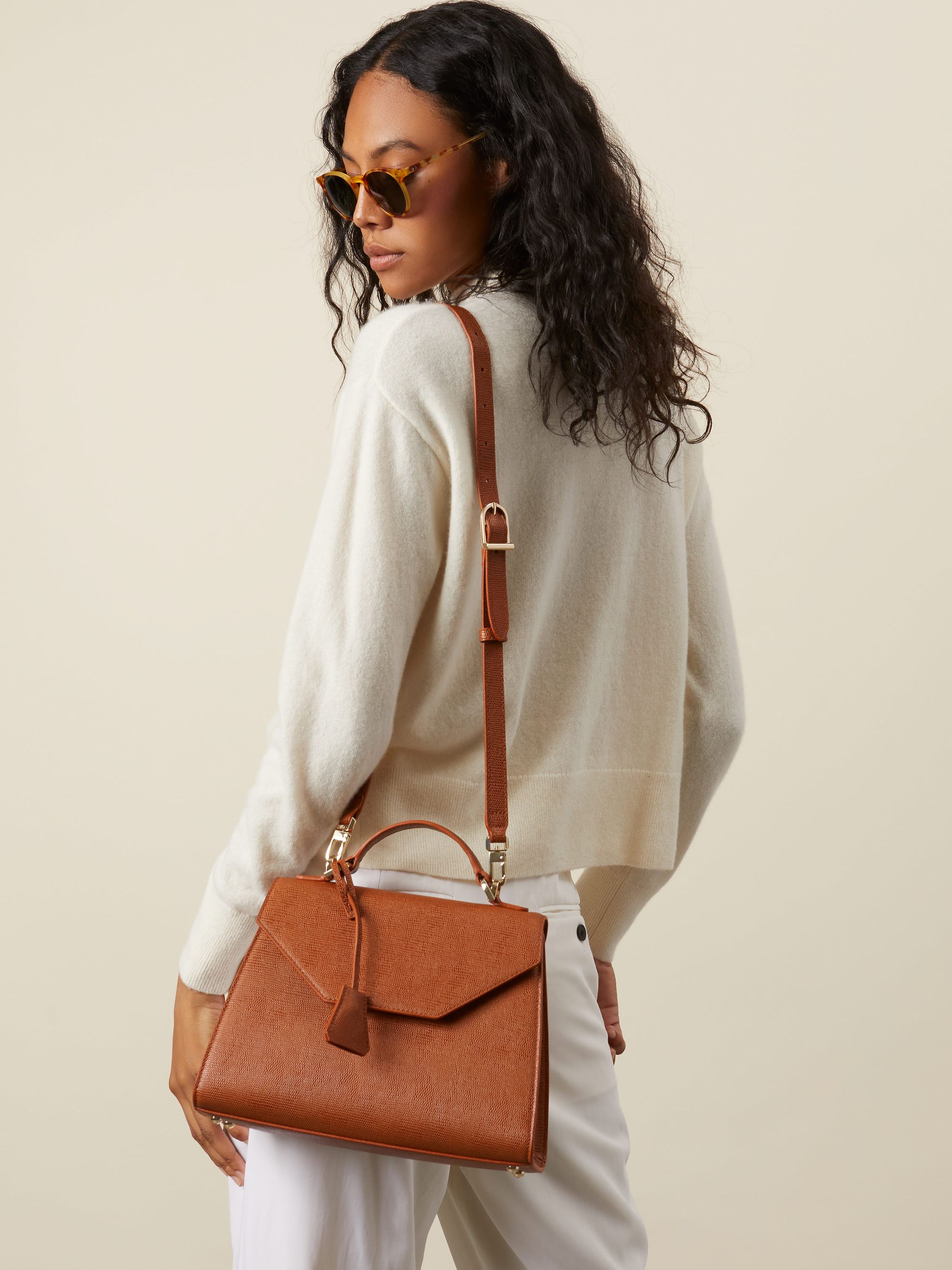 What are the ways it was designed to be worn?
Annie: The strap is adjustable and removable so the bag can be worn as a top-handle or over the shoulder for convenience—or depending on what else you're wearing. You can throw it over your shoulder with a pair of sweats or denim or carry it on your wrist for something dressier with a dress or coat this Fall.
How did you decide on the three colors the bag is offered in?
Annie: I loved the embossed lizard leather because it adds a bit of texture and interest without being flashy. I wanted to choose colors that weren't too serious because I wanted the bag to retain a youthful attitude and vibrancy. They're eye-catching shades but surprisingly versatile and bring a bit of youthful energy to this classic ladylike body. I could easily pair any one of the colors with so many different looks and all of them are eternally seasonless.