Wines, spirits, and cocktails are essential to any dinner party – and knowing how to properly hold (and serve!) them is just as  important. So here's a cheat sheet on how to properly hold and serve glassware for your next dinner party.
The Basics of Glassware Holding
How do you properly hold wine glasses and champagne flutes?
Wine glasses and champagne flutes have four main parts: the base, the stem, the body/bowl, and the rim.
Stemware is designed with a long stem to prevent heat transfer from the surface of your hands to the wine. Wine and champagne are often chilled to keep theiroptimal aroma and flavor.Glasses are designed to maintain that cool temperature.
While holding the bowl of the glass is not a crime, it does warm your drink faster, releasing aroma and flavors quicker. To fully  enjoy your drink of choice, here are two ways to properly hold your stemware:
Tip #1: Hold by the stem
The first option is to hold the stem between your thumb and first two fingers (the index and middle finger). Your middle finger should rest on the stem just above the base for balance and you can use your remaining fingers for support.
This is the most common way of holding wine glasses and champagne flutes. Make sure that you have a comfortable grip and pour just enough wine to keep it balanced.
Tip #2: Hold by the base
Another way to hold a wine is by the base. You can hold the base with your thumb gripping at the top and your remaining fingers supporting the bottom. Though unpopular, this is an acceptable way to hold wine glasses without transferring heat to your drink.
Tip #3: Hold by the stem and support the base
Martini glasses can be tricky to carry around with its wide mouth and shallow body. For good reason though since its design increases the surface area of the cocktail, allowing the drink to aerate and flaunt its aroma directly under your nose.
To hold a martini glass properly, hold it by the stem similar to how you would hold a wine glass and add a bit of support with your palm at the base.
The best way to enjoy high quality wines and spirits is through sight, smell, and taste – and holding stemware properly allows you to do just that.
Holding tumblers and whiskey glasses
If holding stemware by the bowl is a big no-no, holding snifters requires the opposite. Snifters are glassware which have a shorter stem, often used to serve bourbon and brandy. Contrary to wines, the warmth from your palms can actually enhance the aroma of brandy and bourbon so you are encouraged to hold your snifters by the bowl.
---
A note from Italic.
The right wines definitely elevate yourdining experience. With the right glasses, you can fully enjoy the taste, aroma, and look of your chosen wines and drinks. High quality wines require high quality glasses — but that does not always have to come with the high price tag.
At Italic, we challenge the conventional notion of luxury. We believe luxury should be defined by the quality of a product, not by a price tag or logo. So here are some glassware options for your next dining party.
A 21st-century take on a classic champagne flute, our lead-free crystal glass has a delicate silhouette and tapered opening. This timeless choice for toasting adds contemporary elegance to parties and more.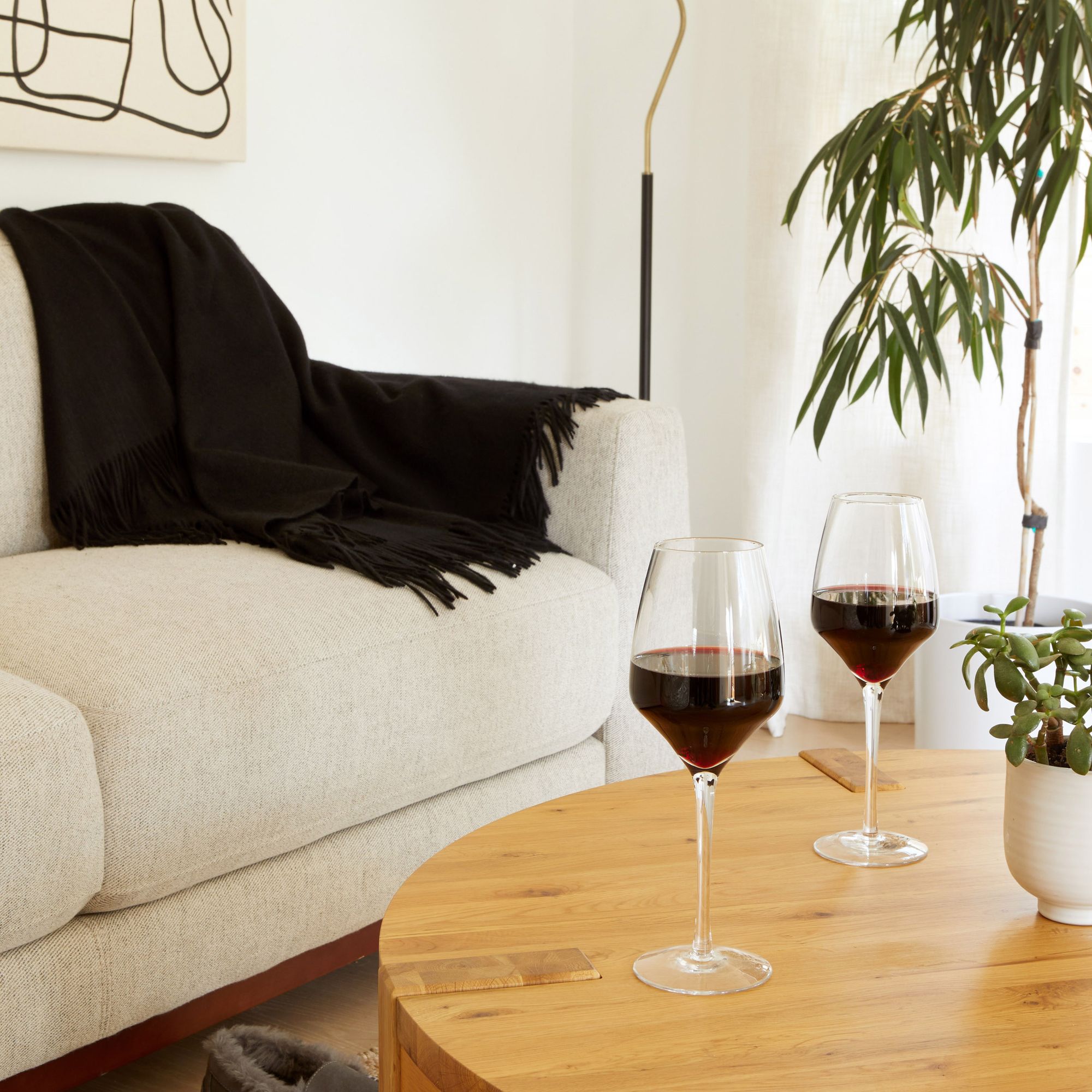 Enhance your favorite red or white with our lead-free crystallized glasses. Our high-quality vessels blend brilliance, durability, and sturdiness for a swirl and sip you'll surely remember.
Everyone should have a set of high-quality cocktail glasses. Made from durable, lead-free crystal glass, the Terre tumbler is a versatile addition to any bar cart. From whiskeys at happy hour to iced coffees in the morning, this set is certain to become your go-to.
In conclusion, knowing how to properly hold glassware is an essential skill for any host who wants to elevate their hosting game. Remember to hold your glass by the stem or base, avoid touching the bowl, and maintain a comfortable grip. With these tips, you can confidently serve your favorite wines and cocktails at your next dinner party and make it an unforgettable experience for your guests.