Appearance-wise, leather sneakers are pretty streamlined. Yet, beneath the minimalist design is an architectural-like foundation where stitching, construction techniques, and materials elevate this seemingly utilitarian shoe into a work of design and elevated craftsmanship.
The best leather sneaker for men and women is, undoubtedly, the minimalist kind. They are more than just "cool sneakers" as they have become the best around-the-clock pair anyone can have in their closet. Their clean lines enliven formalwear and give an edge to the frilliest of dresses, while, at the same time, they make even the most casual, weekend outfit more put together—a pair of slouchy jeans immediately looks more dressed up with a pair of minimalist white or black leather sneakers.
The devil is in the details: with such a simple design, what sets a luxury leather sneaker (such as the Achilles by Common Projects) apart from similar styles priced at around $80-100 includes the materials, the stitching, and the construction technique.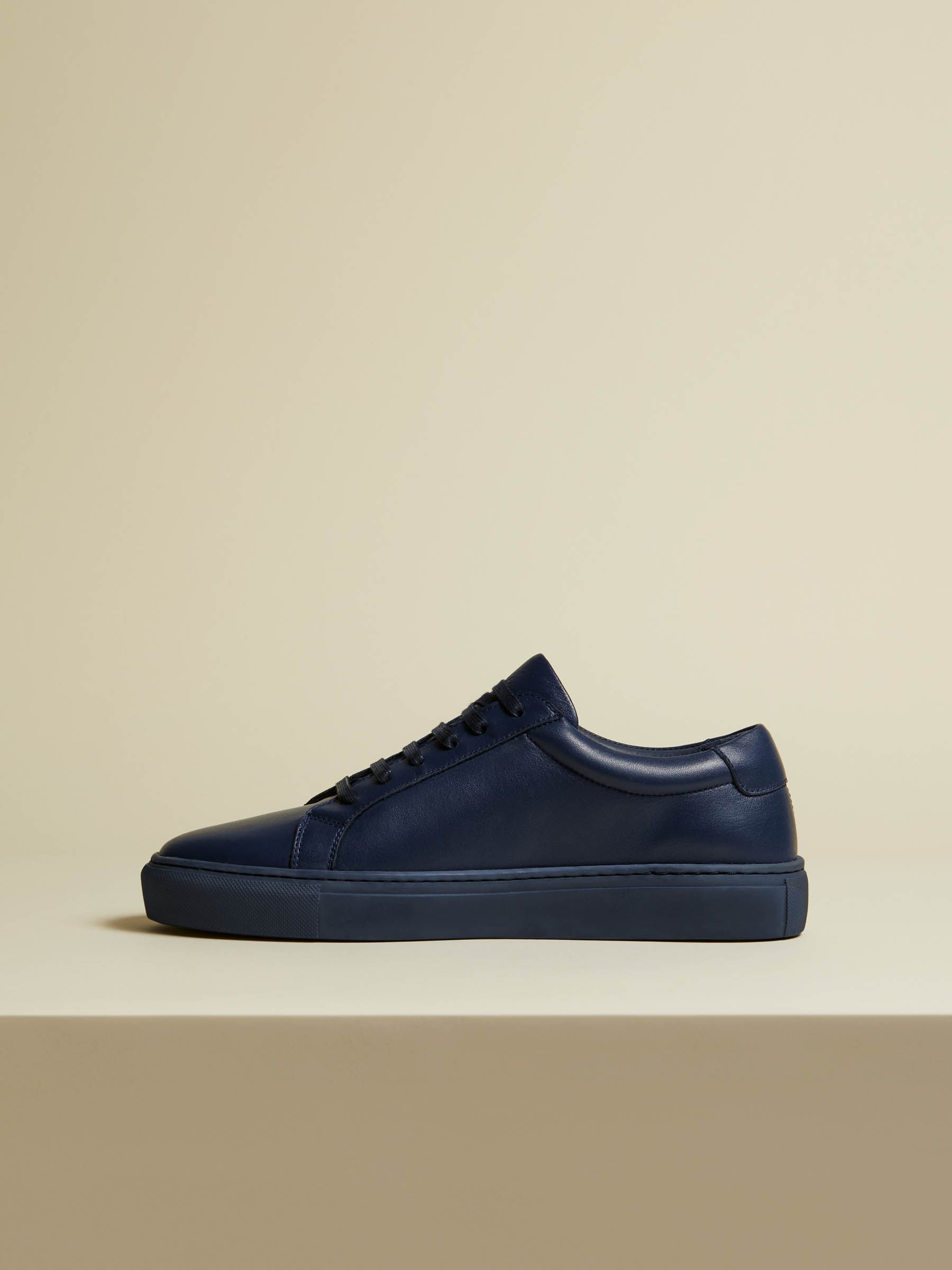 Full-Grain Leather Is the Best Leather.
The best leather sneakers are made with full-grain leather: it's the most prized leather for high-quality footwear and accessories, but is also commonly found in work boots designed to withstand extreme weather. Some of the most high-end leather sneakers  such as the Achilles by Common Projects are, in fact,  made in full-grain leather.
This type of leather naturally develops a patina, a thin layer that protects the leather from wearing out. Full-grain leather is quite stiff when new, but it only takes a little breaking in to make your sneakers feel like the ideal balance between buttery and sturdy.
Strobel Stitching Ensures Comfort
While the best leather sneakers are a stylish accessory, their sleek design should never come at the expense of comfort.  The Strobel Construction, which requires the upper sole to be sewn to a fabric bottom, creating a 'sock'-like structure that is then attached to the bottom sole, was originally devised for athletic shoes, and it allows the weight of the shoe to be kept to a minimum. This means your leather sneaker will fit and feel like a glove. Leo Chang, Senior Creative Director for Nike Basketball Footwear, defined the Strobel construction as "one of the unsung heroes in footwear."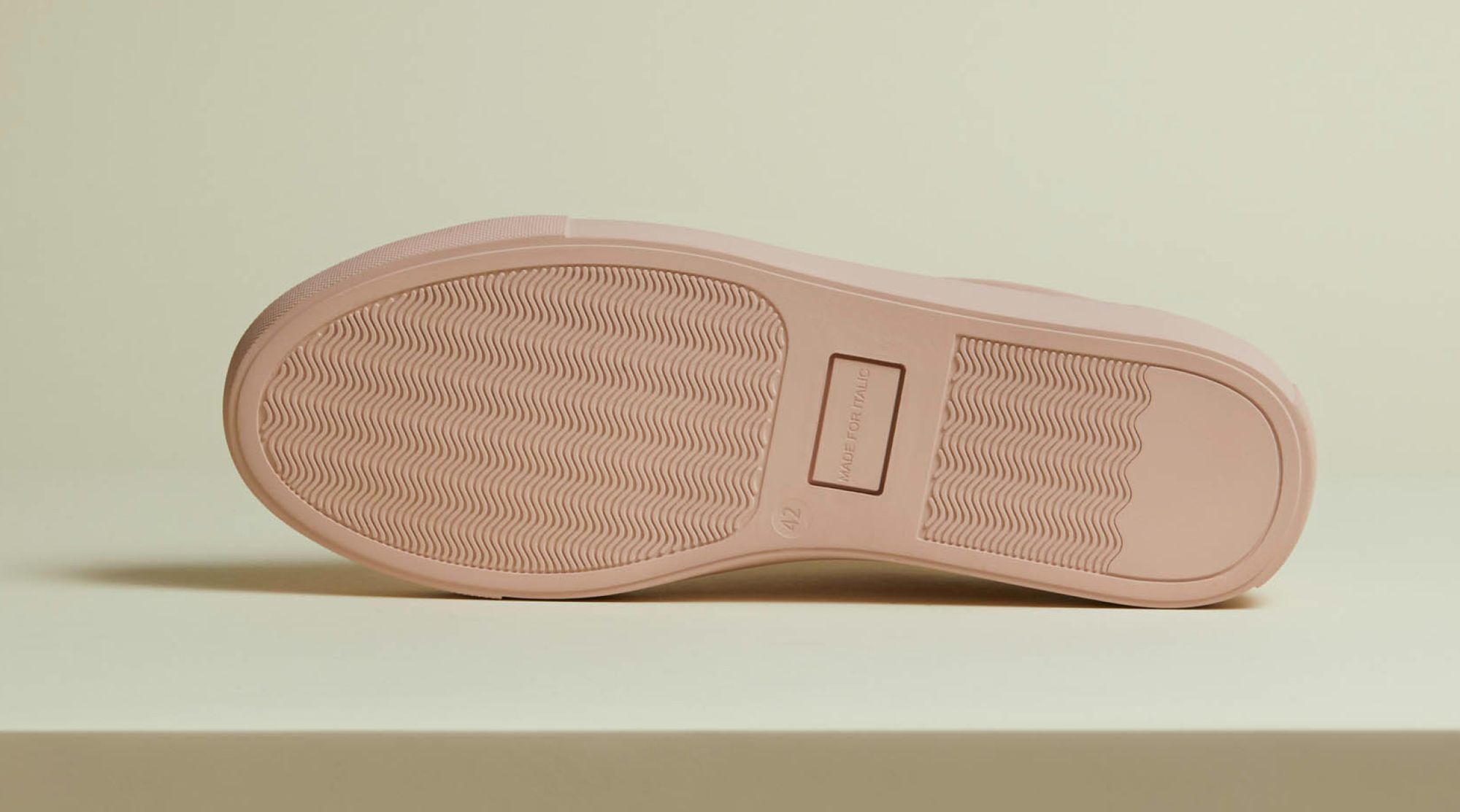 A Rubber Sole Makes Them Sturdy
Leather Sneakers would risk looking and feeling like indoor-only footwear were it not for their soles. The best leather sneakers have a rubber outer sole, which is bendable, waterproof, and heat resistant. It has unmatched wear resistance and makes the act of breaking sneakers in quite easy. It's a dense material, which makes the shoes a little heavy, and that's a fair trade-off: leather sneakers are not meant for jogging or exercise anyway.
Their Design Makes Them Covetable
In the leather sneakers, design is as important as the technical specs and materials. Look for styles in a tonal color palette, where upper sole, bottom sole, and laces all come in the exact same hue: as this creates continuity to the eye. And while a pair of white or black leather sneakers are an essential staple, consider incorporating one of the neutral hues into your rotation: blush, navy, or graphite are as versatile as black and white, and way less predictable.
What's more, styles that are cut low on the ankle will have a naturally elongating effect, especially when worn with rolled-up trousers, cropped pants, or shorter skirts. To avoid feeling like your toes are getting pinched, opt for designs with a wider tip.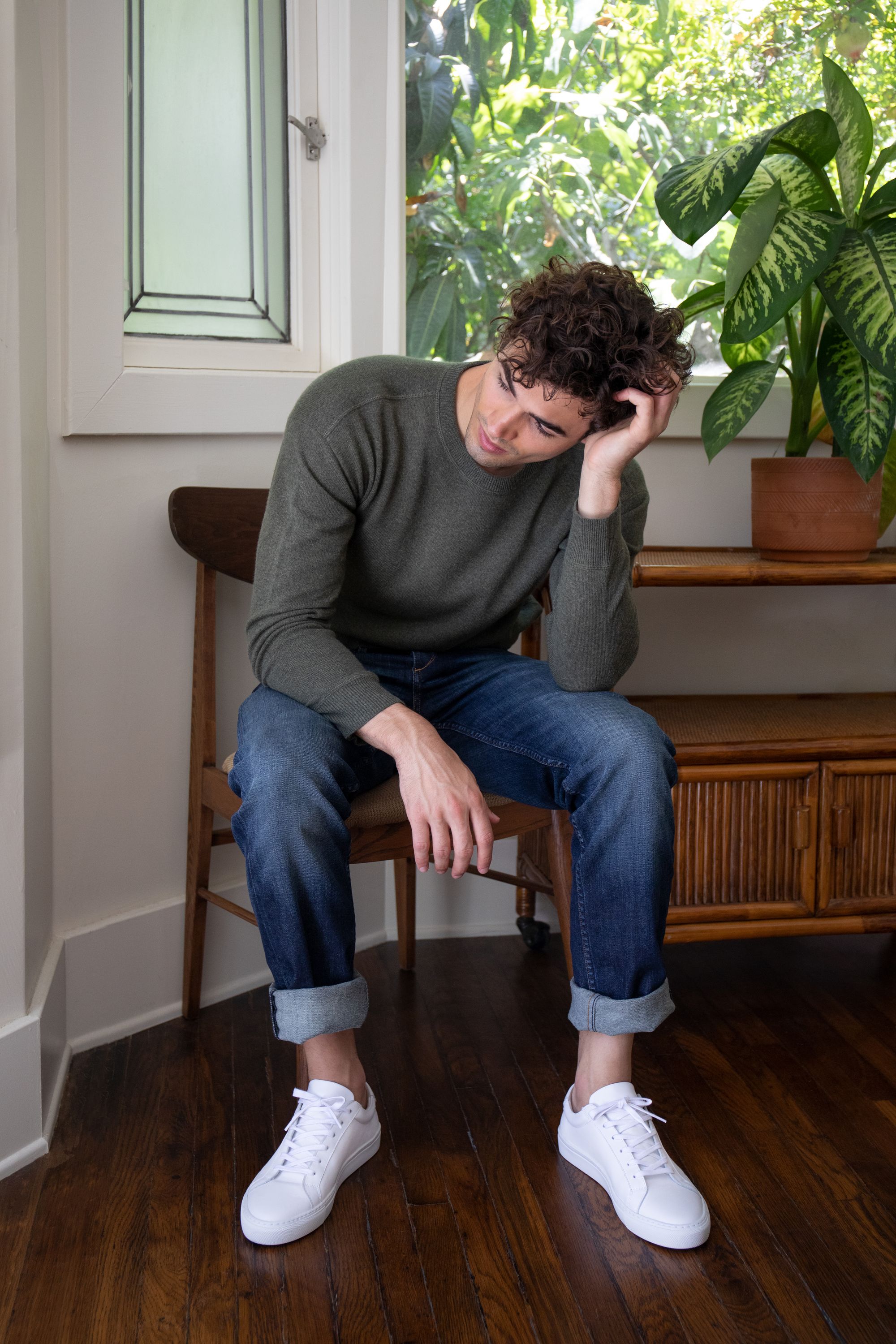 PS: They Require Proper Care.
While brands like Golden Goose made selling artfully pre-scuffed sneakers part of their appeal, minimalist leather sneakers do require some degree of care. Nappa leather can easily be cleaned with a damp non-abrasive cloth, and occasionally brushed with horsehair brush.  A Magic Eraser can keep soles clean.

Where Italic Stands
All these characteristics are the foundations of our Cadence sneaker, which combines high-end manufacturing techniques, luxurious materials, and a beloved minimalist silhouette. The upper sole is made of full-grain leather, supplied by the prestigious Gruppo Mastrotto Italian tannery; the Strobel stitching makes it snug without making it too constricting, while the rubber sole makes it sturdy enough to wear around the clock.  The $75 price tag is a testimony to our mission: selling product at cost by working directly with artisans and manufacturers.